Who Wants To Direct 'Star Wars'? Jon Favreau, JJ Abrams And Colin Trevorrow Respond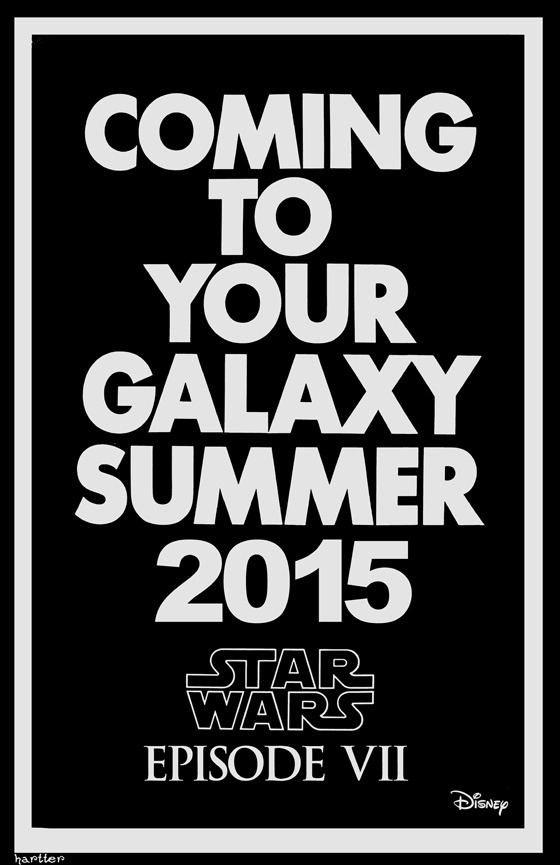 I'm pretty sure we'll be stuck in the speculation/rumor/filmmaker comment zone every day until Disney announces a director has been signed for Star Wars Episode VII. So today's comments come from three different filmmakers, two of the fan picks: JJ Abrams and Jon Favreau and the less obvious choice: newcomer Colin Trevorrow (Safety Not Guaranteed). Are any of these directors in the running for the job? Are any of them actually interested in going to a Galaxy Far Far Away? Find out after the jump.
When rumor had broken out that Academy Award-winning screenwriter Michael Arndt (Toy Story 3, Little Miss Sunshine) had completed a 40+ page treatment for the Star Wars sequel trilogy and would be writing Episode VII, it was also mentioned that Arndt's treatment would be looked over by several top directors including Brad Bird, Steven Spielberg, and J.J. Abrams. Quickly after the rumor was reported, LucasFilm and Disney confirmed Arndt was signed to write Episode VII. So was the other part of that rumor true?
Spielberg was the first to deny wanting the director's chair when asked by Access Hollywood: "No! No! It's not my genre. It's my best friend George [Lucas]'s genre." But he's the biggest name you could possibly get, and I don't think anyone expected that to be a realistic possibility.
On the other hand, JJ Abrams is on a lot of Star Wars fans' wish-lists, nearing the top of our own. When the news of a new trilogy was first announced, Abrams told EW: "Part of me? Thrilled. Part of me? Terrified. Most of me? Thrillified." But now that his name is circling the web, what does he have to say? Hollywood Life was able to reach JJ for comment:
"Look, Star Wars is one of my favorite movies of all time," J.J. gushed. He added, "I frankly feel that – I almost feel that, in a weird way, the opportunity for whomever it is to direct that movie, it comes with the burden of being that kind of iconic movie and series. I was never a big Star Trek fan growing up, so for me, working on Star Trek didn't have any of that, you know, almost fatal sacrilege, and so, I am looking forward more then anyone to the next iterations of Star Wars, but I believe I will be going as a paying moviegoer!"
So it seems unlikely that we'll be seeing JJ Abrams directing Episode VII.
Jon Favreau has always spoken very highly of the Star Wars films, has worked closely with George Lucas' Industrial Light & Magic, and even plays a part in the Star Wars universe — voicing Pre Vizsla in the Star Wars: The Clone Wars animated television series. Would he want to sit in the director's chair for Episode VII? Hollywood Life again scores a comment:
"I think both J.J. and I come from a generation of people who formed our whole creative persona around what we experienced as kids from watching those films, and I have had the good fortune of working with George [Lucas] and around George, and whether it is doing a voice on Clone Wars, or being at the Skywalker Ranch mixing Iron Man – so I have been very happy and lucky to just experience the culture that Lucas has created, both in my own life growing up as a kid and professional – whether it was interviewing him at film festivals on stage, he is just a really wonderful, talented gifted guy who has changed the business so much, so I am just giddy, first and foremost as a fan, to see what happens with it. I think there is a lot of question marks of how they are going to do it, and who they are going to do it with, and what the story is going to be about; but to say that I am not excited about it is definitely an understatement. We'll see."
Seems like he's interested.
I've personally been surprised with all the big names being tossed around the rumor mill. I think from the beginning I had just assumed that Disney would hire a more mid-level filmmaker. They've already spent the big bucks on buying LucasFilm and the Star Wars franchise, why give a big paycheck to someone like Spielberg who would require backend and merchandising points? Even JJ and Favreau seemed like bigger names than Disney needs. Why spend big when the mouse house could hire a younger, talented filmmaker with something to prove. I'm not suggesting a commercial director who has yet to step into the feature realm or anything, but someone more on the level of Andrew Stanton or Brad Bird, an incredible talent with films on their resume but not yet a mainstream household name. A big name director also has more to lose if this goes wrong.
That said, I was a little bit shocked to see Colin Trevorrow's name rumored. Don't get me wrong, I came out of Sundance last year loving his film Safety Not Guaranteed. It's a charming funny indie dramedy with a quirky time travel twist. I liked it a lot — I'm quoted in the marketing materials, and someone told me I'm on the DVD (although I haven't seen it). But nothing in the movie makes me think he should be the next director of Star Wars. Again, I believe he's a good capable filmmaker, but I just didn't see how he would become connected to the project.
When the news first hit, Trevorrow's only response was "No comment."But Trevorrow has since appeared on the podcast filmmixern where he was finally corned about the rumor. When they began asking the question, Colin quickly gave a nervous "oh boy..." before responding:
"I have very little to say about it. [stammering] Certainly, no specifics about whats going on behind the scenes in the selection of that person [a director]. I think that I can speak as a Star Wars fan, which is important to me. Whoever does do this movie, I think, just needs to have a fundamental understanding of why its important to us. We come from a generation who grew up with this as children, to us its almost a belief system. Its harder for people who are older or who were already teenagers when the movie came out to understand how deeply it is our mythology.And there are a bunch of incredible directors who are up for this job... I think whoever gets it will have that fundamental understanding of why Star Wars matters so much to a billion people. Its just incredible. So that's all I can say about that. I'm equally excited about it. ... that's all you're gonna get!"
He later goes on to say that there is a movie that he hopes to shoot in Summer 2013 called Intelligent Life. That of course wouldn't be possible if he were to have to turn in a new Star Wars film for 2015 release. But I'm sure if Collin was presented with said opportunity, the choice would be simple.
Listening to Trevorrow answer the query would lead you to believe that he has definitely met with the producers for the project, and is in consideration for the film. But it should be noted that Trevorrow is also promoting the home video release of his first feature film, Safety Not Guaranteed. It could only help him to play into the rumor and get his film on the radar of Star Wars fans. Its also possible that the rumor may have originated in his camp. All of this is cynical speculation. His answer makes one thing clear: he's a big fan of the Star Wars series, and would be interested in the opportunity.
I do agree with Trevorrow — I hope Disney hires a filmmaker with the same love and affinity for the series that we have.