TV Bits: 'Arrested Development', 'Girls,' 'Walking Dead', 'Hannibal', 'Childrens Hospital', 'NTSF:SD:SUV', Daniel Craig, M. Night Shyamalan, Jason Bateman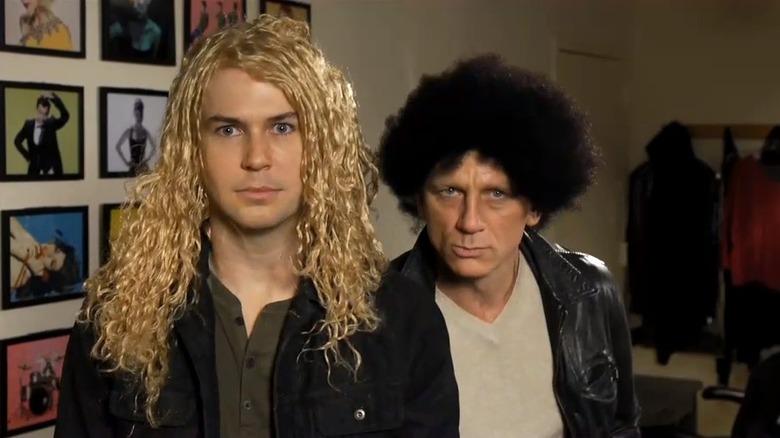 Yes, that is James Bond rocking a horrible wig. Makes Silva's odd blond mop look positively attractive, doesn't it? After the jump:
M. Night Shyamalan sets up Moby Dick-ish series at NBC
Jason Bateman sells Wonder Years-esque show to NBC
Arrested Development announces walk-on role contest
Bryan Fuller adds a Pushing Daisies star to Hannibal
Lena Dunham promises more racial diversity in Girls
Childrens Hospital and NTSF:SD:SUV get renewals
Daniel Craig gets silly for Saturday Night Live promos
The Walking Dead Season 3 teaser makes the case for jail
Confirmed plot details on Lost Horizon are hard to come by, but Deadline's spies report that it takes place in an East Coast fishing village. They liken the drama to "a modern-day Moby Dick," with themes of "obsession and the unkonwn." Shyamalan is attached to direct the pilot if one gets made, from a script by Glenn. Both will executive produce. [Deadline]
Arrested Development isn't the only TV project on Jason Bateman's radar. Bateman is joining forces with Up All Night producer DJ Nash for Then Came Elvis, a single-camera comedy based on Nash's own life.
The NBC series will take place in the '80s and follow "a family that finally comes together when the parents divorce." The story will be narrated via voiceover from the grown-up version of the adolescent son, a la The Wonder Years. Though the 13-year-old boy is less than thrilled with his present circumstances, the adult reflects that he wouldn't change a thing. [Deadline]
It feels like Arrested Development has been adding actors left and right these past few months, including both returning favorites and fresh faces. And now, with a little luck, you could be next. Netflix has just announced a contest for a walk-on role on the series, appropriately titled "You're Gonna Get Some Walk-Ons."
Interested fans are invited to post original pieces of Arrested Development-inspired content to Instagram, Twitter, or Tumblr with the hashtag #BluthWalkOn, or to the official website. All entries must be in by October 16, after which Netflix will select six winners to visit the show's Los Angeles set. Watch Michael Cera kinda-sorta-not-really promoting the contest below:
And while we're on the topic, the original cast have reunited for the cover of Entertainment Weekly. Lindsay (Portia de Rossi) looks so heavily Photoshopped (or plastic-surgeried?) that they may as well have recast her part, but everyone else looks great!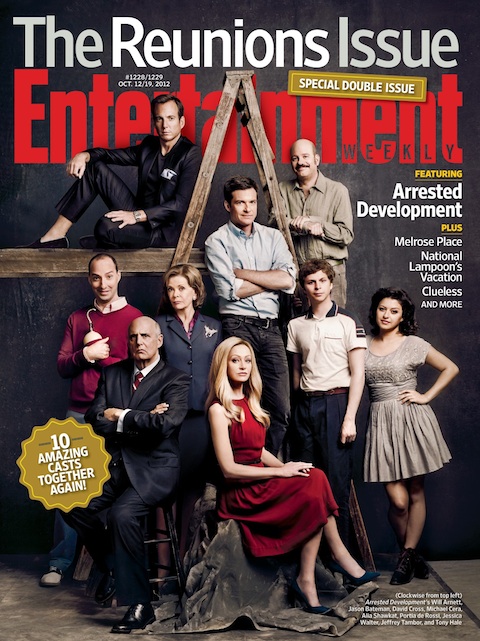 The long-awaited fourth season of Arrested Development hits Netflix in spring 2013. [via Screen Crush, Cinema Blend]
Some of the complaints about HBO's Girls may have been less than sound (e.g., who cares if the stars happen to have famous parents?) but one that's stuck is the show's lack of diversity. Creator/star Lena Dunham quickly took that criticism to heart, casting Donald Glover in a Season 2 episode. Now she's doubling down with the promise of even more non-white characters headed to Hannah's artsy corner of Brooklyn.
At the Fortune's Most Powerful Women Summit, Dunham expressed her "heartbreak at the idea that the show would make anyone feel isolated," and vowed to respond to fans "who are women of color who want to see themselves reflected on screen." One way she'll do so is by adding more diversity to the cast. There will be "a multitude of new characters in the show," she told conference attendees. "There are some of color. Some are not. Some are Caucasian." Look for the fresh faces, whatever color they may be, when Girls returns in January. [via AV Club]
Moving on to a more concrete bit of casting: To fill out the cast of his upcoming Hannibal, Bryan Fuller is looking back to some of his old shows. Wonderfalls actresses Caroline Dhavernas and Chelan Simmons are already set to appear in the series, and now Pushing Daisies' Ellen Greene has boarded the cast as well.
Greene will recur as "Mrs. Komeda," a novelist and a member of Boston cultural elite who is a close friend of Hannibal Lecter himself (Mads Mikkelsen). Hugh Dancy, Laurence Fishburne, and Lara Jean Chorostecki will also star in the drama, which will debut midseason on NBC. [TV Line]
Comedy nerds, rejoice: Adult Swim has just handed renewals to NTSF:SD:SUV and Childrens Hospital, for their third and fifth seasons, respectively. Both new seasons will premiere in 2013. [Vulture]
As James Bond, Daniel Craig's expressions generally range from stoic to downright grim. This weekend, however, he'll struggling to keep a straight face as the host of NBC's Saturday Night Live. And as with all hosts, his job starts with a bunch of funny little promos. It turns out that when he's not busy rolling his eyes at Taran Killam's tiresome 007 jokes, he enjoys chowing down on cupcakes and rocking out on air guitar.
In case you somehow missed the message the first eighty times, Craig hosts SNL this Saturday, October 5, with musical guest Muse. [NBC]
In normal life, people do anything in their power get out of prison. But in a zombie apocalypse, the trick is to get into jail and stay there. In a new trailer for The Walking Dead Season 3, Rick Grimes (Andrew Lincoln) makes his case to his bedraggled gang.
On the other hand, maybe this prison will wind up being more trouble than it's worth. The Walking Dead returns to AMC October 14. [TV Guide]