'The Croods' Teaser Trailer: Nicolas Cage, Emma Stone And More Discover A New World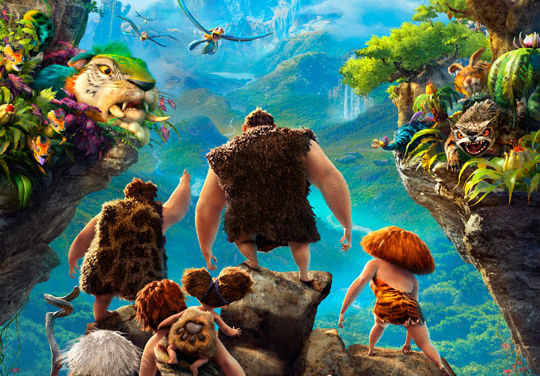 For DreamWorks Animation's upcoming film, The Croods, the voice cast alone is enough to get me interested: Nicolas Cage, Ryan Reynolds, Emma Stone, Catherine Keener, Clark Duke and Cloris Leachman. Then some enticing images were released that showed an extended family of cave people who are about to have their idea of the world changed forever. Now the teaser trailer has come online and it's an exciting blend of those two things. We hear exactly why directors Chris Sanders (How to Train Your Dragon) and Kirk DeMicco cast these characters, we get a sense of who they are, and we get a beautiful tease of what's to come when the film is released March 22, 2013. Check it below.
Head to Apple.com for the HD version but here's an embed.
I'm a huge fan of this trailer. It is well edited, giving the viewer a slow build and anxiety toward what's eventually to come. Then it bombards the audience with crazy, colorful images from the film, making you feel almost like The Croods themselves as they discovering life outside their cave for the first time. I'm looking forward to learning more. If it has even half of the excitement and whimsy of Sanders' last film, How to Train Your Dragon, we should be in for a treat.
The Croods is a prehistoric comedy adventure that follows the world's first family as they embark on a journey of a lifetime when the cave that has always shielded them from danger is destroyed. Traveling across a spectacular landscape, the Croods discover an incredible new world filled with fantastic creatures — and their outlook is changed forever.