Cameo Bits: Quentin Tarantino In 'Django Unchained', Skrillex In 'Wreck-It Ralph', Patrick Stewart Rumored For 'X-Men', Kevin James Spotted Around 'Hangover 3' Set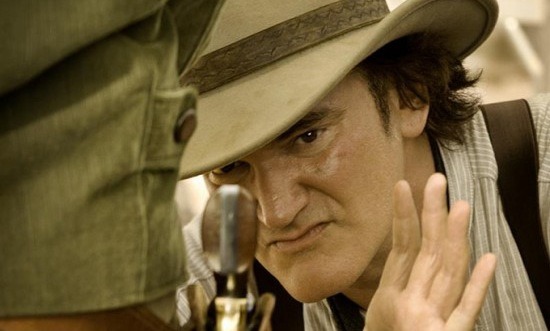 As Django Unchained prepares for its year-end release, news has broken about one more addition to the already star-studded cast. Rex Linn, who plays Tennessee Harry in the film, recently revealed that Quentin Tarantino himself would appear in a small role — as he has in several of his other directorial efforts, including Inglourious Basterds, Death Proof, Pulp Fiction, and Reservoir Dogs.
"Quentin told me that he liked the scene so much he wanted to be in it, too, and that he would also be taking some of my lines," Linn told Look At OKC. "So, you'll know the scenes when you see them. We'll be on the screen with Don Johnson and Jonah Hill. The scenes may not be long, but you will remember them." [via The Playlist]
After the jump: Patrick Stewart might be Professor X again, Kevin James is spotted lurking around the wolf pack, and Skrillex becomes a Disney character.
Having just wrapped Grown-Ups 2, Kevin James seems to be headed to another comedy sequel. James has been spotted in recent weeks around the Tehachpi/Mojave area of Southern California, where The Hangover Part III is currently filming.
An appearance by James in the picture has not officially been confirmed, but a surprise cameo sounds like a distinct possibility. James is not in the middle of filming anything else that we know of, and On Location Vacations says they don't know of anything else shooting in the area.
Electronic music It Boy Skrillex will be seen and heard in Wreck-It Ralph. Over the summer, it was confirmed that the musician would be contributing tunes to the "Hero's Duty" portion of the movie, which is set in a first-person shooter. Now we're getting word that Skrillex will also appear, in animated form, as a DJ.
If you've read this far wondering who in the hell Skrillex is, just keep an eye out for the dude with the long hair and half-shaved head. I suspect Disney won't mess with his distinctive, trend-setting hairstyle, because how anyone would even recognize him otherwise? [The Playlist]
Last summer's X-Men: First Class saw James McAvoy taking over the Professor X role as a younger, sexier, more follicularly gifted version of the wise leader. But the sequel, X-Men: Days of Future Past, could have him sharing the part with the last Professor X, Patrick Stewart.
Asked by a fan at the Montreal Comic Convention to confirm rumors that Stewart could cameo in the new movie, the actor responded, "I think there is every possibility." He then proceeded to list some of his former X-Men stars — "Halle Berry! Famke Janssen! Rebecca Stamos! Anna Paquin" — and concluded, "Yes, I'll be reprising."
Whether that indicates that Berry, Janssen, and the others are also eyeing a return is unknown, but it doesn't seem farfetched. We've already seen that the new film series has no problem with nodding to the old series (recall the surprise Hugh Jackman cameo in First Class), and an appearance from the old cast would actually make sense in terms of the time-traveling plotline. [via Screen Crush]