'The Master' Sets An All-Time Per-Screen Box Office Record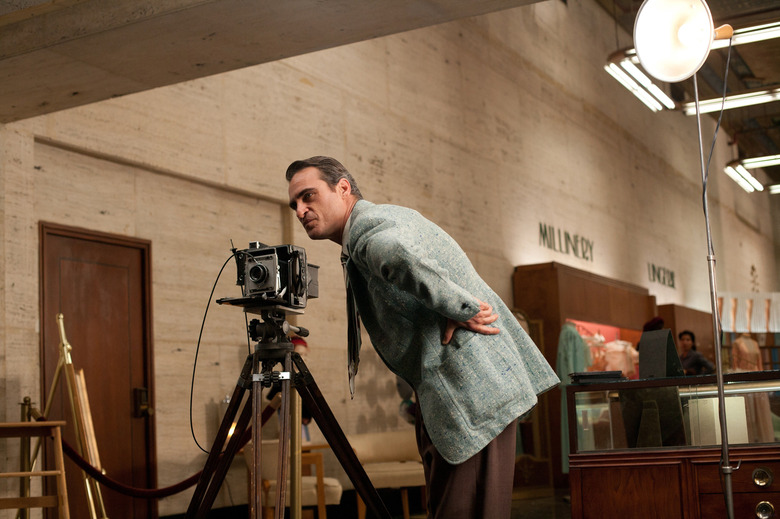 The word "comforting" comes to mind when you realize a new Paul Thomas Anderson movie can set box office records. His latest film, The Master, opened this past weekend in five theaters and grossed $736,311 for a per-screen average of $147,262. That's the highest per-screen average ever for a live-action film with a traditional release. (More on that below.) To put it in a little perspective, when The Avengers shattered the all-time opening weekend record in May grossing over $207 million, it was on over 4,300 screens for an average of $47,698. The Master tripled that.
After the jump, read more about this record.
As with all box office records, there are a ton of catches here. The most obvious is inflation, which plays a large part in figuring numbers, and is regularly ignored. The second is that, according to Box Office Mojo, $147,262 is actually the ninth highest per-screen average over the past thirty years. However, all but one of the films above it were animated Disney films released in a very special engagement before their wide release. For example, the undisputed number-one per-screen average is The Lion King, which opened on two screens two weeks before its general release and grossed an unfathomable $793,377 per screen. I don't even want to think of the lines.
Then there's Kevin Smith's Red State which grossed $204,230 on one night in March 2011. That's obviously higher but it was for one show, with a Q&A and tickets were an average of $60 each. A very non-traditional release.
The Master was a traditional release. Regular ticket prices, regular theaters, with an R-rating and no Disney banner. Speaking to Deadline, the head of distribution of The Weinstein Company, Erik Lomis, said the following:
We're thrilled with the numbers. It set the screen record and all the credit in the world goes to Paul Thomas Anderson with his guerrilla marketing strategy combined with moving the [release date] to this weekend.
Originally the film was scheduled for release October 12, in a much more crowded marketplace, but The Weinstein's decided to move it based on buzz, much of which was created by Anderson himself doing an underground four-walling of the film in Los Angeles, New York, San Francisco, Chicago and more. That helped generate even more buzz and excitement for the film than there already was.
The Master opens wide this Friday, September 21 and it's truly a marvel. Check back soon for Russ's review.