Watch 10 Minutes Of 'Prometheus' Deleted Scenes, See Several New Making-Of Images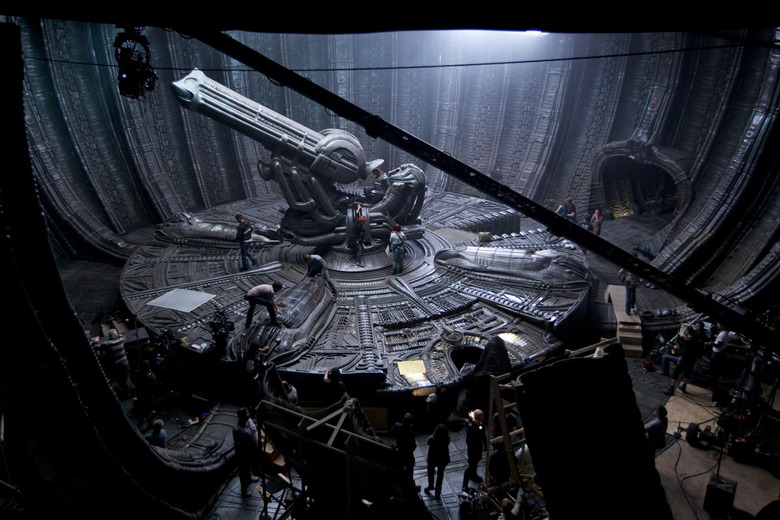 A few weeks ago, rumors began to circulate that Ridley Scott's Prometheus would have over a half hour of deleted scenes, a majority of which would be from the controversial ending. 20th Century Fox never confirmed this and since, it seems increasingly likely that's not the case. The latest rumor is that the disc will have just over 20 minutes of extra and extended scenes with no word on how much of it will be from the ending. However, you can factor out at least half of it.
That's because 10 minutes of deleted scenes from the film have made their way online: six scenes in total. They certainly give some of the characters more motivation and personality but there's no real answers here. Just fat that was pretty expertly trimmed. After the jump, check out the interesting, but also kind of boring footage, as well as a bunch of gruesome behind the scenes images and concept sketches.
Thanks to Worst Previews (via IO9) for the six deleted scenes, strung together in this video.
The main thing I take out of those clips is that Holloway's character was made significantly more sympathetic in the edit. His desperation and mean spirit were certainly not as on the nose in the final cut. Also, his example of the Earth as a petri dish might be the best description of the film's ultimate feeling to date. Which is likely why it was cut. The shedded skin from the alien snake thing should have stayed in though. It would have gotten a huge cheer.
There are also a ton of new behind the scenes images that have come online recently from the film and AVP Galaxy has the lot – about 40 in total. Here are the ten best. Thanks to IO9 for the heads up.