TV Bits: 'The Good Shepherd', 'American Horror Story', 'Parks & Recreation', 'Downton Abbey', Graham Yost, Kyle Killen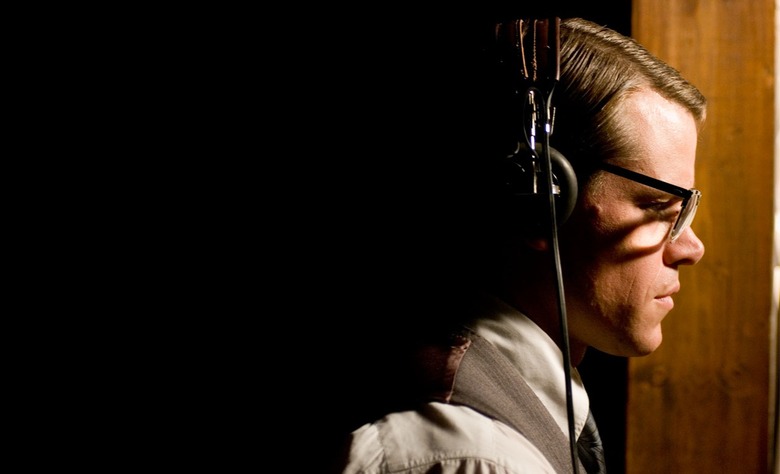 A few new shows in development, a bit of casting, and some new trailers comprise today's TV Bits. After the jump:
Justified creator Graham Yost sells a female spy show to NBC
Showtime turns Robert De Niro's The Good Shepherd into a TV show
Lone Star and Awake creator to try again at ABC with Influence
William Fichtner and Donald Sutherland are Crossing Lines
American Horror Story adds Season 1 alum Frances Conroy...
... and yes, of course they've released yet another new teaser
The Parks & Recreation cast goof off in a charming blooper reel
Tears and meaningful glances fill the Downton Abbey trailer
This is actually one of two lady-centric espionage shows that Yost has brewing. The other is FX's The Americans, which stars Keri Russell as an undercover KGB spy in the '80s. The very busy Yost also serves as an executive producer on TNT's Falling Skies, and will continue to work on FX's Justified as it heads into its fourth season. [THR]
Actually, it looks like spies are just going to be all over the place in a few months. Showtime has started developing a small-screen version of The Good Shepherd, the 2006 CIA thriller directed by Robert De Niro. De Niro will be back to helm the pilot version — it'll be his first time directing a TV project — from a script by the film's writer Eric Roth. The new show will center around a CIA agent and his family. [Deadline]
And now for something a little different: After seeing his drama Lone Star become one of the 2010 season's first casualties at Fox, and his 2012 procedural Awake axed by NBC after just one season, Kyle Killen is trying, trying again at ABC.
The network has just given a put pilot commitment to his new drama Influence, a "provocative" workplace drama about a unique agency headed by two brothers. One is a psychology genius with bipolar disorder, the other a smooth ex-con; together, they help their clients by applying "the real science of human motivation and manipulation." Sometimes, the staff also turn these weapons on each other. [Deadline]
William Fichtner and Donald Sutherland are set to star in Crossing Lines, a European crime series from Criminal Minds' Ed Bernero. The series will center around a special police unit that investigates crimes across the continent's borders. Hence the pretty literal title.
Fichtner and Sutherland will be joined in front of the camera by Tom Wlaschiha (Game of Thrones' Jaqen H'ghar), Gabriella Pession (Wilfred), Genevieve O'Reilly (Episodes), Richard Flood, and Marc Lavione. Production on the ten-episode first season will begin this month in France and the Czech Republic. [Variety]
American Horror Story: Asylum's sprawling cast includes both returning stars and fresh faces, and now it's just added one more in the former category. Frances Conroy is returning to the cast as "the ultimate angel," according to a tweet sent out this week by creator Ryan Murphy. Conroy earned an Emmy nomination for her work as housekeeper Moira in the first season of the series.
Other Season One actors returning this fall are Jessica Lange, Zachary Quinto, Evan Peters, Sarah Paulson, and Lily Rabe. Since the others are all playing new characters, it's probably a reasonable assumption that Conroy will be as well. But who the hell knows with this show? [TV Line]
While we're on the topic of American Horror Story: Asylum, here's yet another new teaser for the upcoming season. Seriously, just how many of these does FX have stockpiled?
American Horror Story: Asylum premieres October 17 on FX. [Screen Crush]
NBC's Parks & Recreation won't return for another two weeks (boo!) but while you wait, we have this delightful blooper reel to tide you over (yay!). I know it's silly, but there's something great about knowing that the people behind one of the sweetest, funniest comedies on TV have as much fun making it as we do watching it.
Parks & Recreation kicks off its fifth season on September 20. [Vulture]
Much less hilarious but just as appealing are these new Downton Abbey trailers. The British promo teases Season 3's most mournful sighs, most passionate kisses, and most meaningful glances, all set to a choral arrangement of Lou Reed's "Perfect Day." The U.S. teaser keeps the traditional theme song, and offers a couple of scenes I don't think we've seen before.
Ugh, and here I keep half-hoping Bates and his bullshit drama have just been killed off between seasons. The rest of it looks great, though! Not a single amnesiac Canadian burn victim in sight. Downton Abbey's third season starts September 16 if you're in the UK, or January 6 if you're in the US. [Deadline, Collider]