Tobey Maguire Too Famous For Ang Lee's 'Life Of Pi'; Replaced By Rafe Spall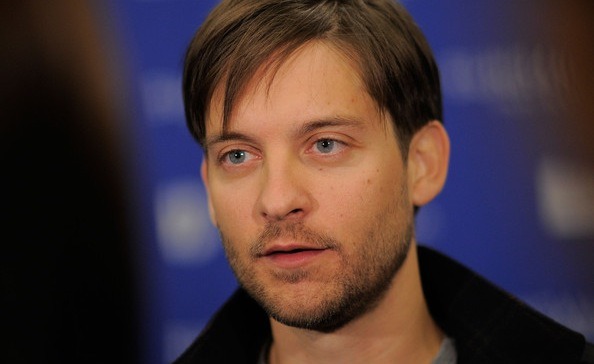 At a time when some studio projects (ahem, New Year's Eve) seem less about telling a good story than about cramming together as many celebs as possible, it's surprising to hear of an actor getting cut because he was too famous for a film. But that's what exactly happened to Tobey Maguire, if recent reports are to be believed.
Last year, Maguire nabbed the role of a writer in Ang Lee's literary adaptation Life of Pi. However, sources now indicate that Maguire's performance simply wasn't "working," and that he's since been replaced by the lower-profile Rafe Spall. Read more after the jump.
Remaining Life of Pi stars Adil Hussain, Tabu, and Irrfan Khan have plenty of credits to their names, but they don't have the recognition that Maguire does, at least in the U.S. And the lead character, Pi himself, is played by a total newcomer — Delhi teen Suraj Sharma, who had literally never starred in a movie before. Given that, it's possible to see how the former Spider-Man star's presence could have been a distraction.
Maguire has denied any lingering tension between himself and Lee over the casting change, issuing a statement that reads: "I fully support Ang's decision to go a different direction for this role in Life of Pi. Ang shared a lot of the film with me, and what I saw was absolutely beautiful." For his part, Lee says, "To be consistent with the other casting choices made for the film, I decided to go with an entirely international cast. I very much admire Tobey and look forward to working with him again in the future."
Maguire was on board to play a writer who interviews the protagonist. While it's surely disappointing for Maguire to miss out on a prestige flick that's already getting awards buzz, he shouldn't have any trouble bouncing back. Maguire has a couple of other exciting projects coming down the pipeline, including Baz Luhrmann's The Great Gatsby and Jason Reitman's Labor Day.
Maguire's lesser known replacement Spall was last seen in Prometheus. His other recent appearances include Roland Emmerich's Anonymous, Lone Scherfig's One Day, and Edgar Wright's Hot Fuzz and Shaun of the Dead. Life of Pi will hit theaters November 21.