Disney's World Of Avatar Attraction Delayed?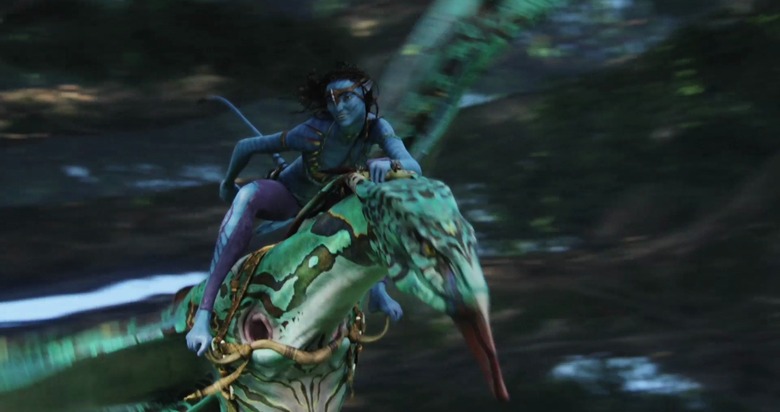 James Cameron is notorious for blowing deadlines when it comes to his movie releases, so it should come as no surprise that he's no better at sticking to schedules when it comes to theme park attractions.
About a year ago, Walt Disney Co. announced plans for James Cameron's World of Avatar, a devoted "land" located within Disney's Animal Kingdom in Florida. At the time, the company had plans to get construction underway by 2013, with doors likely to open around 2015 or so. But now we're hearing rumblings that that project may be running behind as well. More details after the jump.
Nearly twelve full months after the initial announcement, we know only that there'll be some kind of flight simulation ride, and that a mysterious dragon prototype spotted earlier in June may or may not be connected to the Avatar park. We've seen no real designs, nor heard any reports about what attractions will be featured in the park. Either the folks involved are being really, intensely secretive, or — more likely, I think — the project isn't as far along as it should be. If it's the latter, it seems unlikely they'll hit their original goal to break ground by 2013.
The site also reports on rumors that the Imagineers have found Cameron difficult to deal with, which isn't hard to believe given his reputation. Apparently he deals with his frustrations over the theme park project, such as the perceived "lack of progress" by walking out — which of course only makes it tougher for the Imagineers to move forward in any meaningful way. Toss in the fact that Avatars 2 and 3 have already been pushed back from late 2014 to "2015 or later," and Cameron's crowded schedule surely isn't helping matters either.
All this means that by the time Avatar fans get their first chance to revisit Pandora in the sequel, it'll have been six years since the original movie was released. By the time they actually get to ride around on flying dragons of their own (or whatever) in Florida, another two or three years may have passed. That kind of timetable is bound to test the patience of even the most diehard devotee, so let's just hope it's worth it.