TV Bits: 'Arrow', 'Breaking Bad', 'Sons Of Anarchy', 'American Horror Story', 'Blake's 7', 'Doctor Who', And More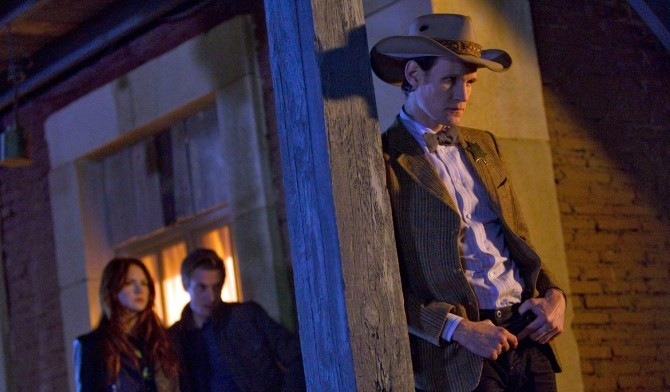 Between American Horror Story and Sons of Anarchy, almost half of this post is FX teasers. After the jump:
Syfy will reboot the Brit cult sci-fi series Blake's 7
Fox picks up a new comedy by the Parks & Rec team
Dwight-centric Office spinoff The Farm begins casting
Jessica De Gouw joins The CW's Arrow as the Huntress
See Breaking Bad stars on old episodes of Seinfeld
Doctor Who gets a premiere date and a new trailer
Watch three more trailers for FX's Sons of Anarchy
See more creepy teasers for American Horror Story
The original Terry Nation-created show centered around a group of criminals and renegades who become unlikely heroes over the course of their outer space travels. Blake's 7 ran for 52 episodes over four seasons ending in 1981, and still retains a cult following today. [Deadline]
As former Office writer / producer / star Mindy Kaling prepares to debut her new show on Fox, a couple of other NBC Thursday nighters are following in her footsteps. Parks & Recreation creator Mike Schur and writer Dan Goor are headed to the network for a new single-camera half-hour comedy from the duo, about a team of NYPD detectives working in one of the city's outer (i.e., non-Manhattan) boroughs. Fox has just given the series a pilot order, with an eye on debuting it in 2013.
But fear not, Parks & Rec fans, Schur's not leaving Pawnee behind completely. He has previously said that he plans to stick with the NBC comedy until the end. [Vulture]
Back at NBC, meanwhile, a cast is slowly coming together for the Dwight Schrute-centric Office spinoff The Farm. Majandra Delfino (Roswell) has just been cast as Fannie, the "pseudo-intellectual lefty" kid sister of Dwight (Rainn Wilson) who's only recently returned to the fold after spending the last several years in Boston. Blake Garrett (How to Eat Fried Worms) will play her weirdo son Cameron. Both characters will make their debut appearances on an episode of The Office this fall.
If the network decides to move forward with the show, it'll follow the adventures of Dwight and his siblings as they deal with the beet farm / bed & breakfast they've just inherited. A search is still underway for the part of Dwight's brother Jeb. [TV Line]
You'd think Arrow's Oliver Queen (Stephen Amell) would have enough on his plate already, between recovering from his shipwreck, fighting the forces of evil, and uncovering shady family secrets, but apparently there's always room for a little romance.
The CW series has just cast Aussie actress Jessica De Gouw as Helena Bertinelli a.k.a. The Huntress, a vigilante hell-bent on destroying the organized crime empire run by her father. De Gouw has reportedly signed on for multiple episodes, and will make her first appearance around Episode 6. Arrow premieres October 10. [EW]
Though Breaking Bad definitely pumped up their profiles, most of the AMC series' adult cast had been working for years or even decades before getting mixed up with Walter White and his blue stuff.
It's pretty well known that one of lead Bryan Cranston's gigs was a recurring role on Seinfeld as Jerry's dentist, but what you may not know is that Skyler (Anna Gunn), Saul (Bob Odenkirk), Gretchen (Jessica Hecht), and several others have made appearances on the sitcom as well. Watch a video of their performances below:
[via Screen Crush]
Whovians, mark your calendars. BBC America has just announced a premiere date of September 1 for Doctor Who's upcoming seventh season, and there's a new trailer to get whet your appetite.
Head to TV Line for synopses of the first three episodes, "Asylum of the Daleks," "Dinosaurs on a Spaceship," and "A Town Called Mercy," though be warned that spoilers follow.
Apparently FX just has a massive stockpile of these eerie, symbolism-heavy promos for American Horror Story. The three latest focus on, respectively, a bath, a staircase, and a flower.
Creepy... and not a little bit informative. Not that we'd want to know all the twists in advance anyway. American Horror Story: Asylum premieres in October. [via Cinema Blend and TV Overmind]
The three new trailers for FX's Sons of Anarchy, on the other hand, dish up some juicy Season 5 footage. The first one, "Survive," teases the season's overall plot arc, while the two that follow focus on Tara (Maggie Siff) and Nero (Jimmy Smits).
Sons of Anarchy will return September 11. [via TV Line]