'Stolen' Trailer: In Which Josh Lucas Tries To Beat Nicolas Cage At His Own Game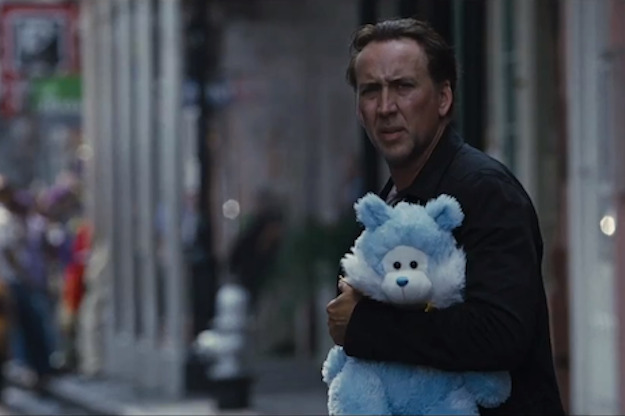 Look out, bad-film fans: Josh Lucas might be making a play to be the new Nicolas Cage, and he's doing it from within a Nic Cage movie! Stolen reunites Cage and his Con Air director Simon West (who also helmed last weekend's The Expendables 2) in a film about a criminal (Cage) whose former partner (Lucas) wants a payout from an old job. To get it, he kidnaps Cage's daughter (Sami Gayle) and drives around town with her held in his cab as Cage frantically tries to track her down with the aid of an old associate (Malin Akerman).
If that doesn't tell you everything you need to know, the header photo should help out. Check out the trailer below, and be ready to see Josh Lucas chewing scenery with his mouth wide open.
If only Alison Lohman could have been cast in the daughter role, this collection of strange tropes and threadbare ideas would be complete. You've got Cage once again in a Millennium Films New Orleans production, with a plot that is like the heist-movie version of Taken, and just a dash of familial angst per Matchstick Men. It looks like a fantastic disaster, and whatever the hell Lucas is doing definitely has my attention. Doesn't he know it is all but impossible to top a crazy Cage performance while in a movie opposite Cage?
Yahoo has the trailer. Stolen opens on September 14.
Will Montgomery is a master thief who after being double-crossed in a heist gone awry is sent to prison for 8 years. Upon his release he's ready to leave his criminal past behind and try to rebuild a relationship with his estranged daughter Allison. The FBI and his old cohorts believe that he hid the loot from the last heist eight years ago, $10 million in bonds. To get his hands on it, his old partner Vincent kidnaps Allison and demands the entire $10 million as ransom. Keeping her in the soundproofed trunk of a taxi cab, he's able to stay mobile amongst the throngs of taxis out during Mardi Gras, making it nearly impossible to find. Montgomery only has one day to get the $10 million ransom, but much to the disbelief of the FBI on his trail and Vincent, Will doesn't actually have it. Instead, he must trust his instincts and his old partner in crime, the beautiful, sexy and smart Riley, to do one more clever heist to get his daughter back alive before it's too late.