Lars Von Trier's 'Nymphomaniac' Will Feature Real Sex, Says Shia LaBeouf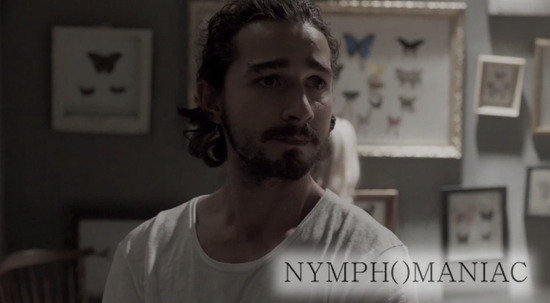 Lars von Trier has never been a director to shy away from anything. (Except flying.) With his next film, Nymphomaniac, he's reportedly going all the way. According to actor Shia LaBeouf, everything in the film will be done for real, meaning they'll be shooting live sex on set. Or at least that what it sounds like. We all know LaBeouf is well-known for putting his foot in his mouth during interviews, but this time there's non-pornographic precedent for the idea.Nymphomaniac stars von Trier semi-regular Charlotte Gainsbourg as a woman whose sexually driven life will be followed from "her youth to age 50." Stellan Skarsgard and Nicole Kidman also star along with the Indiana Jones and Transformers actor, who recently said he's not interested in doing blockbusters anymore.
Read and watch his quotes after the jump.
The specific quote about the sex came from the following interview with MTV (via Gawker). The best part is Jessica Chastain's reactions.
Here's what he said above:
It is what you think it is. There's a disclaimer at the top of the script that basically says, 'we're doing it for real.' And anything that is 'illegal' will be shot in blurred images. But other than that, everything is happening.
He then goes on to say he's ready to do anything for the director, even though he's terrified of him.
Von Trier showed real sex (albeit using close-up doubles) in Antichrist and Vincent Gallo did it a few years back in The Brown Bunny, so it's happened. Depicting explicit sex drastically limits the film's audience but Lars von Trier isn't making Nymphomanic – which will reportedly be split into two parts – for a huge, blockbuster audience.
And that's likely why LaBeouf is working with him. The actor sat down with the Hollywood Reporter recently and swore off the kinds of films that made him a household name:
I'm done. There's no room for being a visionary in the studio system. It literally cannot exist. You give Terrence Malick a movie like Transformers, and he's f***ed. There's no way for him to exist in that world.
We'll see if he sticks to that if George Lucas calls for Indiana Jones 5. Do you think von Trier will film real sex in Nymphomaniac?