What Does The Short 'Guardians Of The Galaxy' Synopsis Tell Us About The Movie?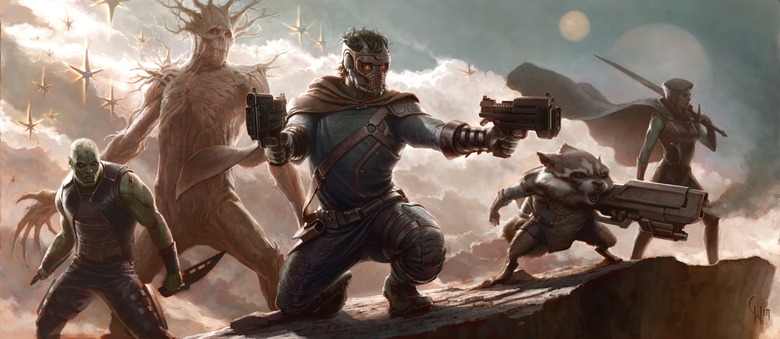 Details on Marvel's next giant movie, Guardians of the Galaxy, have been pretty thin so far. We've got some info on the core characters that make up the team, but we've had no idea about the story. Now a purportedly accurate log line gives us a bit of detail about what kicks the story into motion.
It's on the Grid reports this as the one-line description for the film:
About a U.S. pilot who ends up in space in the middle of a universal conflict and goes on the run with futuristic ex-cons who have something everyone wants.
Seems likely that the astronaut in question is Peter Quill, aka the character Star-Lord pictured in the Guardians concept art released at Comic Con. (He's the one in the middle, described recently as "a gun-toting half-human/half-alien inter-galactic vigilante.") And is the "something everyone wants" either the Cosmic Cube or the Infinity Guantlet, both big power items in the Marvel Universe that have already either played in or been teased in Marvel Studios films? We have a pretty good idea that Thanos, pictured briefly at the end of The Avengers, will be the big antagonist for this film, and those items are key to elements of his story.
Nicole Perlman scripted and Chris McCoy is rewriting. No director or cast has been announced at this point. Guardians of the Galaxy is set for release on August 1, 2014.