VOTD: ParaNorman's "This Little Light" Featurette Shows The Work That Goes Into Tiny Details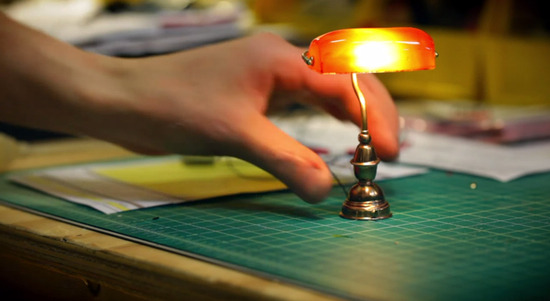 We've run quite a few behind the scenes videos about the creation of Laika's new stop-motion animated film ParaNorman, but that's because the creation of films such as this one is an impressive process. Personally, I rarely tire of seeing these animators in action; bringing a film like ParaNorman to life requires a combination of brute force effort and unique ingenuity that is unlike the effort required for other filmmaking efforts.
In this case, the video This Little Light shows the process of creating one of the smallest elements of the film: a desktop lamp. Many disciplines are involved in making just one tiny, incidental part of the film's world: design, modeling, glassblowing, painting, electrical assembly, and so on. I doubt that anyone thinks all the stuff around the chracters in ParaNorman just springs to life without effort, but this video, which you can see below, is a lovely demonstration of how much effort it takes to make a world.
ParaNorman opens tomorrow, Friday, August 17.
The new 3D stop-motion comedy thriller from animation company LAIKA, reteaming the company with Focus Features after the groundbreaking Academy Award-nominated "Coraline." "ParaNorman" is, following "Coraline," the company's second stop-motion animated feature to be made in 3D. In "ParaNorman," a small town comes under siege by zombies. Who can it call? Only misunderstood local boy Norman (voiced by Kodi Smit-McPhee), who is able to speak with the dead. In addition to the zombies, he'll have to take on ghosts, witches and, worst, of all, grown-ups, to save his town from a centuries-old curse. But this young ghoul whisperer may find his paranormal activities pushed to their otherworldly limits.