TV Bits: 'The Transporter', 'Dexter', 'The Walking Dead', 'The Mindy Project', 'Ben And Kate', Peter Berg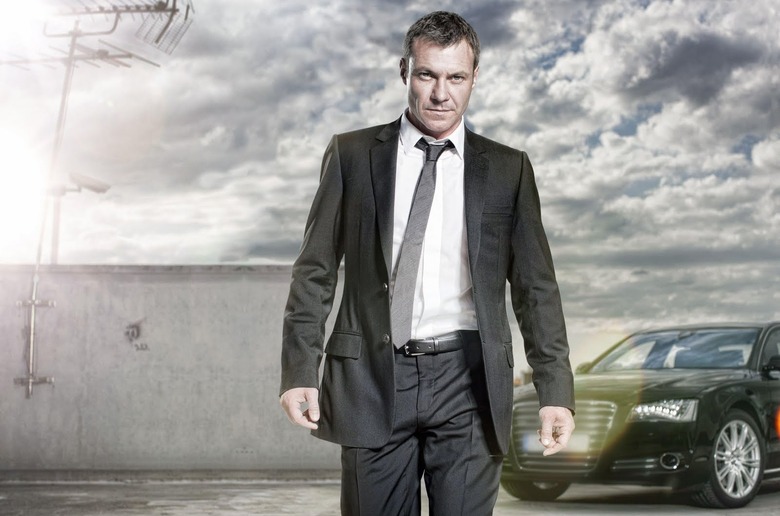 Happy Monday, everyone. After the jump:
Fox will host screenings and Q&As of their new shows
Peter Berg and NBC will explore supervillain underlings
Dexter sheds a bit of blood in a new poster for Season 7
Walking Dead deleted scene shows what might've been
Take a peek at Cinemax's new Transporter TV series
Participating in the Entertainment Weekly-moderated panel will be Max Greenfield, Lamorne Morris, and Jake Johnson from New Girl; Martha Plimpton and Garret Dillahunt from Raising Hope; Dakota Johnson and Nat Faxon from Ben and Kate; and Mindy Kaling and Chris Messina from The Mindy Project. To submit a question, head to the show's Facebook pages or tweet at them with the hashtag #FoxTuesdays; to attend the events, head to EW.com for more info.
Hancock helmer Peter Berg is delving back into the superhero genre, as NBC puts his series Hench into development. This time, however, he's approaching the story from the other side. The drama will center around "a regular guy who, in order to support his family, gets jobs temping for super villains." Because in this economy, even evil, successful masterminds can't afford to provide their employees with vacation time and benefits.
Berg and his Film 44 partner Sarah Aubrey will executive produce, along with writer Alexandra Cunningham. The team was also behind NBC's Prime Suspect remake, which earned critical praise but few viewers. Let's hope they do a little better on the latter front with this project. [Deadline]
Seven seasons in, Dexter Morgan's taste for killing is very well established. If this new poster is any indication, however, it looks like he'll be the one shedding blood in Season 7.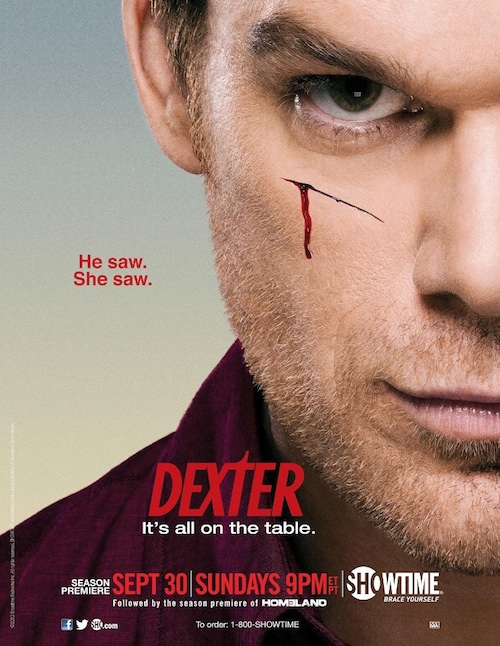 The tagline ("He saw. She saw. It's all on the table." ) is an obvious reference to the Season 6 cliffhanger, but what do you make of that scrape on his face? Is Dexter in literal danger, or is that cut purely metaphorical? Guess we'll find out when Dexter returns to Showtime September 30. [TV Line]
The big staff shakeup between Seasons 1 and 2 of The Walking Dead, in which original showrunner Frank Darabont was replaced by Glen Mazzara, is well known to fans of the AMC zombie series. Whether that move was a smart one or not is still open for debate, and always will be because we'll never know exactly how Season 2 might've played out with Darabont still at the top. But what's certain is that it would've been different.
Under Mazzara's charge, Season 2 picked up after the group were already on the way out of Atlanta. But Darabont had originally planned for Season 2 to pick up right after the big explosion at the end of Season 1, and had already started shooting when plans changed. The Season 2 Blu-ray promises to reveal more of Darabont's version of the story, as well as Mazzara's reasons for going in a different direction, when it hits August 28. For now, you can get a peek at one of the deleted scenes from Darabont's version right here:
[Bleeding Cool via EW]
The Bourne Legacy's solid box-office performance this past weekend proved that it is possible for an action movie series survive without its A-list star. But can a franchise retain its appeal even after the loss of its leading man and a shift from the big screen to the small one?
Cinemax is hoping so, as it prepares to launch its new series The Transporter. Chris Vance replaces Jason Statham as Frank Martin, the stoic driver whose jobs never quite seem to go according to plan. Check out the first trailer after the jump:
[via The Playlist]
I get that this is the kind of show more concerned about looks than talent, and that the cheesy dialogue isn't giving anyone much of anything to work with — but wow, some of these line readings are painful. No release date has been announced, but expect the show to hit sometime this year.