Steven Spielberg Wants Chris Hemsworth For 'Robopocalypse'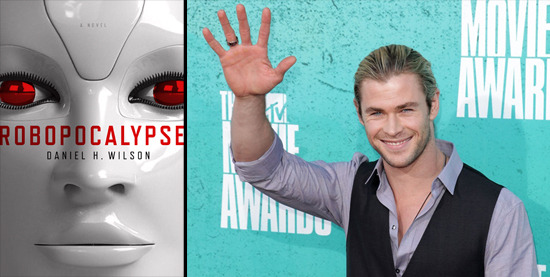 After Steven Spielberg finishes his long-awaited Lincoln, which stars Daniel Day-Lewis as the storied sixteenth President of the United States, he'll turn to something completely different. The next film is Robopocalypse, written by Drew Goddard (The Cabin in the Woods) based on Daniel H. Wilson's novel. The story describes "a global war between man and machine."
Now Spielberg reportedly wants Chris Hemsworth (Thor, The Cabin in the Woods) to star in the picture.
Deadline reports that while there isn't an official offer out to Hemsworth at this point, he's been the subject of serious discussions and meetings. The use of fake names has even been employed — this is serious casting espionage, people. But until a real deal is hammered out, we'll keep our distance and watch. Presumably Drew Goddard's input on the matter is helping Hemsworth along, as Goddard directed him in Cabin before Thor made the actor a big deal.
As for the overall film, Spielberg once described it thusly:
It's a movie about a global war between man and machine. I had a great time creating the future on "Minority Report", and it's a future that is coming true faster than any of us thought it would. "Robopocalypse" takes place in 15 or 20 years, so it'll be another future we can relate to. It's about the consequences of creating technologies which make our lives easier, and what happens when that technology becomes smarter than we are. It's not the newest theme, it's been done throughout science fiction, but it's a theme that becomes more relevant every year.
The book description also gives some details:
In the not-too-distant future, robots have made our lives a lot easier: they help clean our kitchens, drive our cars, and fight our wars–until they are turned into efficient murderers by a sentient artificial intelligence buried miles below the surface of Alaska. Robopocalypse is a fast-paced sci-fi thriller that makes a strong case that mindless fun can also be wildly inventive. The war is told as an oral history, assembled from interviews, security camera footage, and first- and secondhand testimonies, similar to Max Brooks' zombie epic World War Z. The book isn't shy about admitting to its influences, but author Daniel H. Wilson certainly owes more to Terminator than he does to Asimov. Robopocalypse may not be the most unique tale about the war between man and machine, but it's certainly one of the most fun.
The Disney/Fox/DreamWorks film hits on April 25, 2014.