'Star Trek 2:' Benedict Cumberbatch Is Not Gary Mitchell, Alice Eve Is Canon, Peter Weller Is Not, Trailer Timeline And More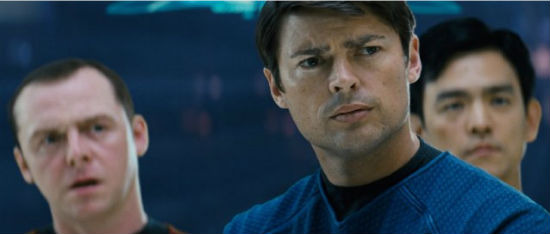 A quick recap of this week in Star Trek 2: Karl Urban seemingly slips and says Benedict Cumberbatch is playing a character named "Gary," likely referring to Gary Mitchell. He then says Trek 2 footage will appear online during Comic-Con. I ask him about both these things and he swears up and down he doesn't lie or play games. This is then proved to be a lie as he releases the aforementioned "footage," a video of him surfing.
Now that you're caught up, here's the latest. Star Trek 2 co-producer and co-writer Roberto Orci, who previously said Gary Mitchell was not the villain, stuck to that statement and added that both Cumberbatch and Alice Eve are playing canon Star Trek characters while Peter Weller was someone new. He also commented on when we might see a trailer, get a title and more. Read about it after the jump.
A few weeks back, Orci was on a radio show and put Gary Mitchell on a list of characters who are not in the movie. Now, talking to Trek Movie, he said the following in response to all of Urban's seemingly contract statement:
I would say that I never lie. While Karl tests all those hypo spray props on himself.
Orci then said Fall was the latest we'd see our first trailer from the film, there's a short list of titles with only a few that don't use the words "Star Trek" and that they'd try to keep the villain's identity a secret all the way up to release if possible:
[We'll keep Cumberbatch's identity a secret] for as long as we can because of our belief that one of the fun things about Star Trek that distinguishes it from other franchises is that the story turns. It isn't just the spectacle of Star Trek, not just the explosions and the battles, it is the plot. That is why we are so protective of plot and character with this particular franchise. In others that isn't the case but in this one we can preserve the experience for some people of not knowing exactly until we get there. Will we succeed in keeping it under wraps? Probably not, but we will try it.
Finally, played a game where the Trek Movie guys gave the name of an actor and then Orci said whether or not that character was someone new or canon. Here were the results:
Canon: Alice Eve, Benedict CumberbatchNew: Noel Clarke, Nanzine Contractor, Peter Weller, Joseph Gatt
Head to Trek Movie to read even more from Orci, such as when Abrams might have the first rough cut, when sound mixing could begin and more. It's a great interview.