First 'Pacific Rim' Footage Shown At Comic-Con, Guillermo Del Toro Spills Jaeger And Kaiju Details [Comic-Con 2012]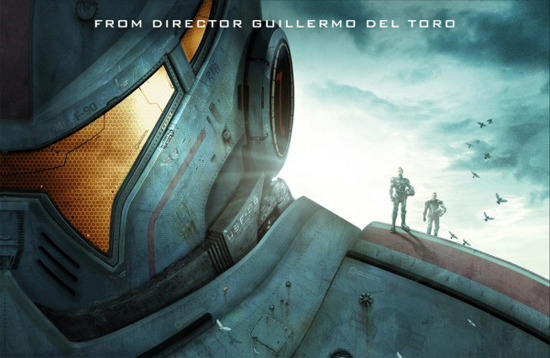 Although the Pacific Rim section of Legendary's Hall H panel was attended by stars Charlie Hunnam, Charlie Day, Rinko Kikuchi, and Ron Perlman, as is usually the case at Comic-Con, director Guillermo del Toro turned out to be the real star of the show.
The filmmaker spilled the beans about his highly anticipated "giant robots vs. giant monsters" film in his typically charming, foul-mouthed manner, including more details on the Kaiju (monsters) and the Jaegers (robots). In addition, we got our first taste of footage from the sci-fi epic. While I'm sorry to report that we don't have a video embed for you at this point, hit the jump for a description of the footage, plus a rundown of highlights from the panel.
The video then showed us bits and pieces of the world, which looks fairly similar to our own. A bridge is destroyed when a massive, destructive Kaiju appears on it. We only got glimpses of the monster, never its entirety. We then cut to the people tasked with saving the world from these terrifying creatures, who are getting a rousing speech from leader Idris Elba: "Today, we are cancelling the apocalypse!"
As the lights went back up to cheering and applause, del Toro gleefully told us that the footage we had seen was "just the tip" of the iceberg. ("We only say that about icebergs," he joked.) "You can get crazy or lazy, and I chose to be as crazy as I could. [I told my staff,] use creativity and passion and madness as a fuel to make this movie," he said.
We only got good looks at one Kaiju and one Jaeger during the promo, but Del Toro revealed during the audience Q&A that we'd be seeing not only multiple Kaiju and Jaegers, but a wide variety of them. "We have approximately nine Kaijus, six or seven robots, each one has a unique ability, each one is distinguished," Del Toro said. "We designed about 40 Kaijus and did an American Idol on them, [choosing the best one]."
He later added, in response to a different question, "We have flying monsters, sea monsters... We have monsters up the wazoo!" Don't look for Godzilla or Nessie to pop up, however — del Toro revealed that all of his monsters would be original inventions created specifically for the movie, rather than pulled from legend.
The Jaegers, for their part, will be loaded up with all sorts of features. "We have rocket launchers, we have amazing close contact weapons, some artillery... Expect obscene robot porn and robot-on-kaiju action."
As we've previously heard, each Jaeger requires two pilots to wrangle it: one controls the left hemisphere, while the other manages the right. Which, of course, raises the obvious question of what would happen if a single person tried to cover both sides. "That is answered in the film," del Toro affirmed. "We wanted to show what happens when it's a single pilot, and what happens to that pilot. [At point point in the film,] a Kaiju leaves one pilot alive and we see if the pilot is able to drive the Jaeger to safety. It's a big ordeal."
To capture the look and movement of the robots and monsters, del Toro said they did "a shitload of physical stuff" rather than rely too heavily on CGI. "One of the things we were very clear about is no fucking motion capture. I don't want robots moving just like human beings, I want them to really move [like machines]. For the monsters, it's the same." In service of that commitment to realistic-looking motion, del Toro revealed that they'd designed the creatures "from the inside out, to feel like real physical entities that have real bones, weight, muscles."
Pacific Rim opens July 13, 2013. Keep an eye out for our video reaction to the footage, and click here to see our previous coverage of the film.