'Skyfall' IMAX-Exclusive Trailer Reveals More Plot, And Nerdy New Q [Comic-Con 2012]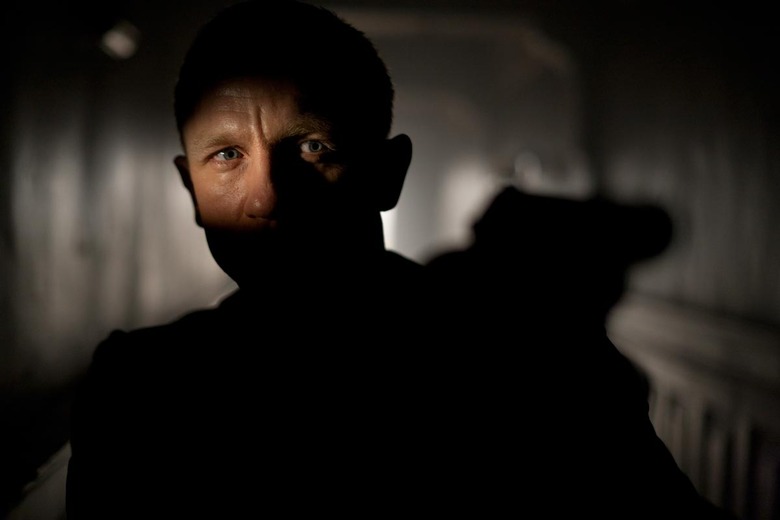 I wish this post featured a good-quality embed of the new IMAX-exclusive trailer for Sam Mendes' film Skyfall, but the key word there is "exclusive." At a weird and cool IMAX Remix event last night near the San Diego Comic Con, a display of footage from various IMAX films was capped off with a new trailer for the twenty-third James Bond film.
This trailer, I'm told, won't go online, and will play only in IMAX theaters. Your best bet is to catch it in front of The Dark Knight Rises next week, but in the meantime you can read a few notes about what the trailer reveals, below.
While the first Skyfall teaser, and indeed most of the advance marketing so far, has been fairly reserved, this trailer will remind everyone that the movie is indeed a James Bond film. It shows hints of a couple big setpieces — some of the crashing London tube train of which I wrote in my set visit feature, and which was also briefly seen in the previous teaser, and also part of the train sequence shot in Turkey. (The same one seen in amateur video a while back.) More on that in a moment.
There are a couple new key bits in the trailer. One is a very useful bit of plot info, in which Ralph Fiennes chastises M (Judi Dench) for the fact that she (or one of her agents) lost a flash drive containing the true identity of every British agent embedded in a terrorist operation. Clearly that will have some bearing on the plot, at least as far as providing a MacGuffin to motivate some action. There's dialogue from M that suggests Bond's generally unpredictable nature, and then an introduction of the new Q, played as we've seen by Ben Whishaw.
It seems that Whishaw's Q is modeled in some fashion after the Simon Pegg character in the Mission: Impossible films, if not quite with the same saturation of overt humor. Still, there is a good gag in the scene where Bond first meets Q, as the younger tech expert claims that he can kill more people with his computer, while wearing pajamas at home, than Bond can do in a year. There's some good energy between the actors, and the scene, in truncated form as it is for the trailer, seems to work.
Then there's the action. The train sequences in Turkey are interesting; there's some big destruction going on, and the fight atop one train, immortalized on a student's low-res video as linked above, also involves the Naomie Harris character in an unexpected way. The action looks big and thrilling, and the effect of the trailer in a general sense was electric. There are quite a few good small moments in there for Bond films to convince audiences that this is the real successor to Casino Royale.
As mentioned above, the Skyfall trailer was shown at the tail end of an IMAX remix event, in which footage from different films — Mission: Impossible – Ghost Protocol, Transformers 2, Harry Potter, and several documentary films including footage of surfing, skydiving, space shuttle missions, and a Grand Canyon flyover — was projected inside the IMAX Dome (formerly called Omnimax) at the Reuben H. Fleet Science Center in San Diego. The footage prior to the Bond trailer featured music mixed by DJ Glenn Morrisson, and the entire presentation was immersive and very visually impressive. Watching the Skyfall trailer projected inside the dome was cool but perhaps not optimal for seeing every detail, as the curved surface of the dome distorted the projection somewhat.
Even with that caveat, the event overall was a great experience, and even without being able to see every detail of the Skyfall trailer, and with Javier Bardem's character being glimpsed only briefly, there's quite a lot of new detail for Bond obsessives to pore over before the film hits late this fall.