First Official Image Of Matt Damon In Neill Blomkamp's 'Elysium'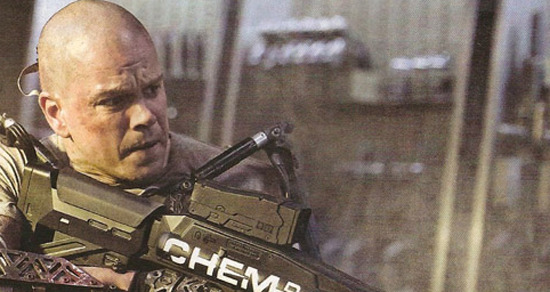 With the exception of a few set photos, Neill Blomkamp shot his District 9 follow-up Elysium in almost total secrecy. We have seen  a couple images of Matt Damon, with his head shaved, wearing what seemed to be prison clothes, but that's just about it for pictures from the film.
Now, just before Comic Con begins, a few films that have maintained a low profile over the past year or two are being glimpsed, and so here's the first real photo from Blomkamp's movie. Once again, the subject is Damon, but this time he's wielding a huge weapon and also wearing some sort of other gear that may or may not be part of the gun.
Check out the full image below. 
EW has this image, scanned by The Playlist. What is "ChemRail"? We'll find out soon, and perhaps even next week when Sony shows off the first footage from the movie. In the meantime, take in this look at Damon, in what appears to be a slightly unique role for the actor.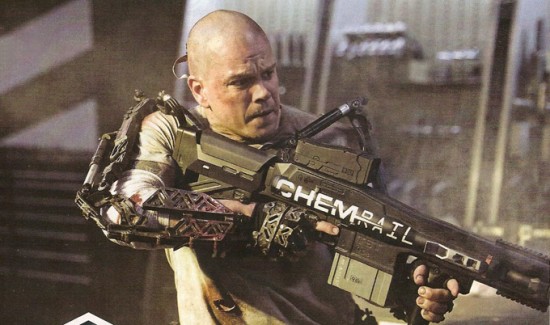 Elysium also features Sharlto Copley, Wagner Moura, William Fichtner, Sonia Braga, and Diego Luna. It is due out on March 1, 2013. Here's the recently-released synopsis:
In the year 2159 two classes of people exist: the very wealthy who live on a pristine man-made space station called Elysium, and the rest, who live on an overpopulated, ruined Earth. Secretary Rhodes (Jodie Foster), a hard line government of?cial, will stop at nothing to enforce anti-immigration laws and preserve the luxurious lifestyle of the citizens of Elysium. That doesn't stop the people of Earth from trying to get in, by any means they can. When unlucky Max (Matt Damon) is backed into a corner, he agrees to take on a daunting mission that if successful will not only save his life, but could bring equality to these polarized worlds.