Marvel's 2014 Mystery Movie Moves Back Three Months; Does This Confirm 'Guardians Of The Galaxy'?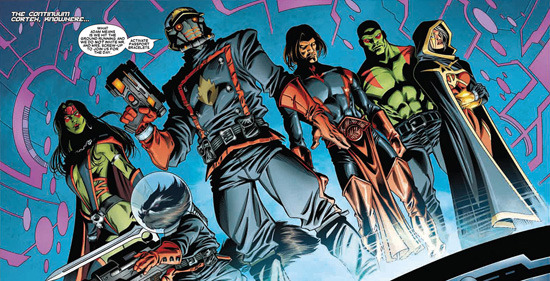 In 2011, Marvel Studios announced they would release two films in 2014 and even gave them release dates: May 16 and June 27. They then moved the June 27 movie to April 4, and confirmed it would be Captain America 2. So it looked like we were going to get new Marvel movies in back to back months. Then last week, the news broke that the second film would likely be Guardians of the Galaxy, still scheduled for May 16. (Still with me?)
That film has now been moved itself, from May back to August 1, 2014, which seems like a strong hint it is, in fact, Guardians of the Galaxy. Read more after the jump.
The release date move came from Box Office Mojo and it makes perfect sense. Late summer is always more of a crap shoot and opening Captain America 2, a proven franchise sequel, early among the big guns (such as Robopocalypse, Amazing Spider-Man 2, etc.) is a fair fight. Guardians of the Galaxy, if that's what this film is, will likely be a harder sell with a lot of competition and would have a better shot with a bit more room to breathe. An August release date allows just that. In fact, this move – to me – all but confirms the film will be Guardians of the Galaxy. It's a weaker release date for a movie that's not a guarantee.
What I find most interesting about this move is that Marvel has taken it upon themselves to extend the summer, as it were. Captain America 2 opens early April and will almost certainly be a big hit even though summer usually starts in May. August is still technically considered summer in Hollywood, but almost all of the major blockbusters have already opened by then. Opening movies in these bookend slots is a huge vote of confidence in their product. It's Marvel's way of saying, "Our movies can be major blockbusters at any time. We'll let you have your precious May-July."
We'll likely find out what movie will specifically open on August 1 2014 at Comic-Con next week but – for now – discuss the release date change. Do you agree it's a smart move and a big hint at Guardians of the Galaxy?