Christopher Nolan And Emma Thomas Producing Wally Pfister's Directorial Debut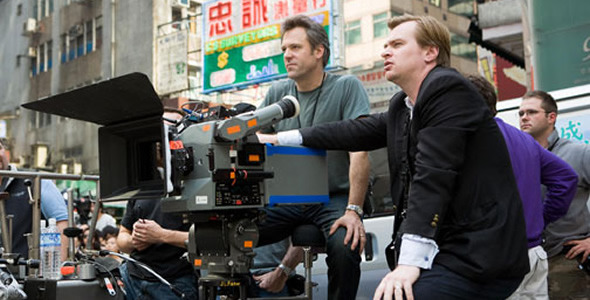 One of the best things about the films of Christopher Nolan is Wally Pfister's cinematography. In March, we told you that Pfister would be making the leap to director after The Dark Knight Rises is fully finished. (And hopefully not leaving cinematography behind, as Jan De Bont and Barry Sonnenfeld did.)
At the time we had little info on the film that Pfister plans to direct. Now we know that Nolan and his wife and business partner Emma Thomas will produce the film that Alcon Entertainment is financing. Sadly, we still have no story info or even a title. But you can get what little info is available in the press release below.
CHRISTOPHER NOLAN AND EMMA THOMAS TO EXECUTIVE PRODUCE ALCON ENTERTAINMENT'S UNTITLED WALLY PFISTER DIRECTORIAL DEBUT
 LOS ANGELES, CA, JUNE 13, 2012 – Producing partners ChristopherNolan and Emma Thomas are coming on board to executive produce Oscar-winning cinematographer Wally Pfister's untitled directorial debut which Alcon entertainment is financing and producing, it was announced by Alcon co-founders and co-CEOs Broderick Johnson and Andrew Kosove.The screenplay, written by newcomer Jack Paglen for Pfister to direct, was developed by Annie Marter and sold as a pitch to Straight Up Films, whose Company principals include Marisa Polvino, Kate Cohen and Regency Boies.  Polvino, Marter and Cohen will produce along with Johnson and Kosove.  Boies will co-produce. The plot is being kept under wraps.Principal photography is set to begin in the fall or early winter.Pfister is an Oscar winning cinematographer (for INCEPTION) and is best known for his work on projects with Christopher Nolan. His collaboration with Nolan has spanned seven films, beginning in 1999 with MEMENTO, and earning him three Oscar nominations and one win.Nolan and Thomas stated: 'We have been hoping to work with Wally as a director for a long time, and are thrilled to be working on such an original and exciting project alongside him and Alcon'.While this is his first feature project, Pfister has been directing commercials for several years and gained notice for his powerful work on PSAs for "The Montana Meth Project" alongside the work of Directors Darren Aronofsky, Tony Kaye, and Alejandro Inarritu.Pfister recently completed THE DARK KNIGHT RISES with Nolan and served as the cinematographer on last years best picture nominee, MONEYBALL. Other credits include THE ITALIAN JOB and LAUREL CANYON.Kosove and Johnson added: "Chris and Emma, with whom we worked so closely on INSOMNIA, are supremely talented, as filmmakers, as collaborators, as storytellers, in all ways large and small, and we are delighted to be in business with them again."