TV Bits: Showtime Offers 'Homeland' Teaser And 'Dexter' Photo, Plus: 'American Horror Story', 'Sons Of Anarchy', Lizzy Caplan, Yvonne Strahovski, And More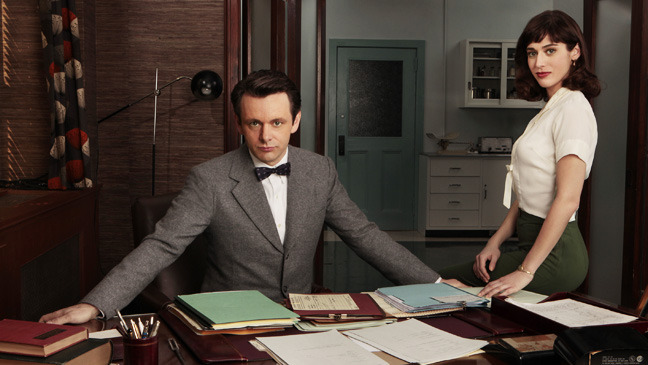 Showtime is generating much of the exciting news this time around. We have glimpses of Homeland Season 2 and Dexter Season 7, a bit of Dexter guest casting that may intrigue Chuck fans, and word on new Showtime dramas featuring Lizzy Caplan, Martin Sheen, and Liev Schreiber.
Meanwhile, over at FX, Ashley Tisdale boards Sons of Anarchy, while Joseph Fiennes circles an American Horror Story role. Hit the jump for more of everything.
The Homeland teaser is short and foreboding, but sadly lacking in any new footage:
[via Screen Crush]
Homeland returns for its second season on Sunday, September 30.
The new Dexter photo is a little more revealing and spoiler-y if you're not caught up on Season 6. It confirms what we already suspected about Season 7 picking up exactly where the last finale left off.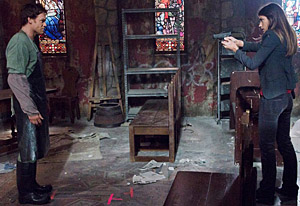 Yeah, shockingly, Deb (Jennifer Carpenter) doesn't look so thrilled that her brother-turned-crush (Michael C. Hall) has turned out to be a murderer. Exec producer Scott Buck promises that the series won't tread lightly when it comes to the serious drama that that plot twist raises.
"Viewers might think we shy away from that moment of Debra walking in and seeing Dexter stabbing into Travis' chest, but it's just the opposite," he told TV Guide. "She now has to deal with what she's seen and what she knows. And it forces him to defend and define himself." He then added, "We're not shying away from those feelings of hers, either."
And as always, the new season will see Miami's most lovable serial killer dealing with a few new faces. Among them will be Chuck actress Yvonne Strahovski, who's just signed on for a multi-episode arc as "Hannah McKay, a strong, independent woman with a past that she's struggled to put behind her. As a turn of events leads Miami Metro Homicide to ask for her help in solving some old cases, Dexter works with her and begins to wonder if there's more to this woman than she's professed."
Strahovski joins fellow newcomers Jason Gedrick, Ray Stevenson, and Katia Winter. Dexter's seventh season kicks off September 30. [TV Line]
Dexter's likely to bow out after his eighth season in 2013, but with any luck, by that point we'll have some fresh titles to replace the gap in our Showtime viewing schedules. The network has just picked up two promising high-end dramas, both of which are slated to debut in 2013.
The first is Masters of Sex, which stars Lizzy Caplan and Michael Sheen as real-life sex research pioneers William Masters and Virginia Johnson. The couple began working together in 1956, when she was hired as his assistant, and eventually got married in 1971 before divorcing in 1993, so there's already plenty of tension and drama built right into the premise. I'll be watching this one, if only because I absolutely adore Sheen and Caplan.
The other is Ray Donovan, about a Hollywood fixer who — get this — can't fix himself. Specifically, Liev Schreiber plays a man who struggles with his own family troubles while cleaning up the lives of others. The series comes from Ann Biderman, who previously created the acclaimed Southland.
Between Scary Movie 5 and that (failed) Louis C.K.-produced CBS pilot, Ashley Tisdale's been working hard lately to move beyond her Disney image. And her latest gig may be about as far from her High School Musical days as she can possibly get. Tisdale has just landed a multi-episode guest role on Season 5 of FX's Sons of Anarchy, in which she'll play a high-end escort named Emma Jean who "complicates the club's life."
Kurt Sutter's biker drama has been picking up some noteworthy guest stars for its upcoming fifth season, including Jimmy Smits and Harold Perrineau. Sons of Anarchy will return this fall.
And speaking of intriguing FX casting: EW reports that Joseph Fiennes is in talks to join American Horror Story as a series regular, playing the "tortured" head of the institution where the second season takes place. His character will be Jessica Lange's boss and lover, as the pair strike up a May-December romance that I'm sure will definitely have a happy, healthy ending.
The report calls Fiennes "the final major piece of casting," so we expect this'll be the last high-profile name to board the project. The Season 2 cast already includes returning actors Lange, Zachary Quinto, Lily Rabe, Evan Peters, and Sarah Paulson, as well as newcomers James Cromwell, Adam Levine, and Chloë Sevigny. American Horror Story will mark a reunion for Fiennes and series creator Ryan Murphy; Fiennes has previously starred in Murphy's (shelved) 2007 pilot Pretty Handsome and his feature directorial effort Running With Scissors.