First Look: Idris Elba In Guillermo Del Toro's 'Pacific Rim'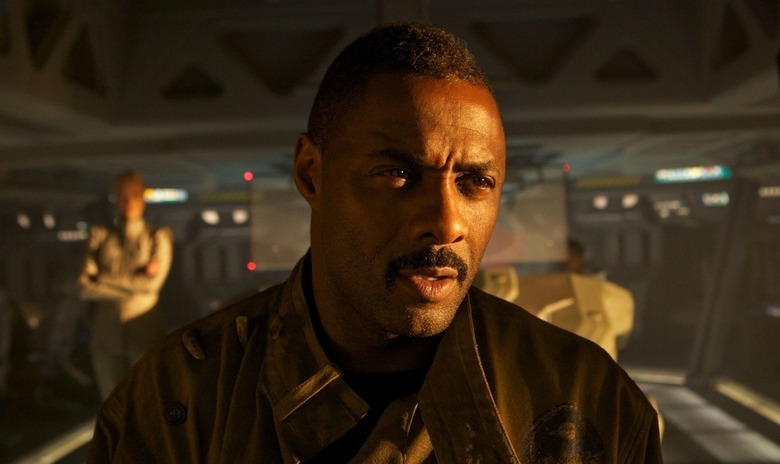 Guillermo del Toro's Pacific Rim has been in the works for a couple of years now, and entered production several months ago. But at this point the film's moved into post and we still don't have much of an idea as to what it looks like. Happily, that's slowly changing. Earlier this spring, we got to see some footage of the sci-fi epic's Toronto-as-Toyko set, and now have our first look at one of the stars, Idris Elba, in costume. Check out the photo below.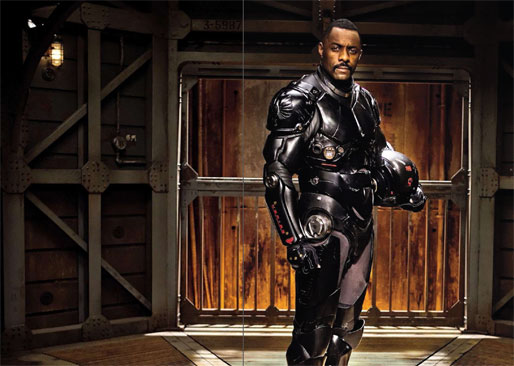 Looks pretty sharp, right? But as this is a del Toro film, what we're really dying to see more of is the creatures — specifically, the giant robots and sea monsters. After all, he did promise last year that these would be "the finest f***ing monsters ever committed to screen and... the greatest f***ing robots ever committed to screen."
Although it was the super-realistic HBO drama The Wire that launched Elba into a whole new level of his career, the sci-fi genre has been treating him very well as of late. Before Pacific Rim hits, he'll be starring in this weekend's Prometheus, and is slated to start shooting Thor 2 later this year.
Also starring Charlie Hunnam, Rinko Kikuchi, and Charlie Day, Pacific Rim is scheduled to open July 12, 2013.
Synopsis:
When legions of monstrous creatures, known as Kaiju, started rising from the sea, a war began that would take millions of lives and consume humanity's resources for years on end. To combat the giant Kaiju, a special type of weapon was devised: massive robots, called Jaegers, which are controlled simultaneously by two pilots whose minds are locked in a neural bridge. But even the Jaegers are proving nearly defenseless in the face of the relentless Kaiju. On the verge of defeat, the forces defending mankind have no choice but to turn to two unlikely heroes-a washed up former pilot (Charlie Hunnam) and an untested trainee (Rinko Kikuchi)-who are teamed to drive a legendary but seemingly obsolete Jaeger from the past. Together, they stand as mankind's last hope against the mounting apocalypse.