Plot Details Revealed For 'The Green Inferno', Eli Roth's Return To Feature Filmmaking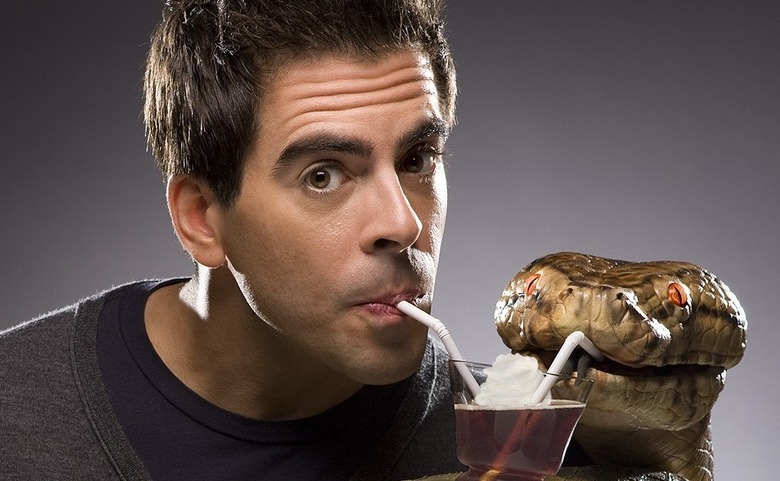 Over the past several years, Hostel helmer Eli Roth has kept himself busy as a producer, writer, actor, TV director, and even theme park attraction designer — as pretty much everything, it seems, but a feature film director. Aside from some uncredited work directing the "Nation's Pride" film-within-a-film from Quentin Tarantino's Inglourious Basterds, Roth hasn't directed a film since 2007's Hostel: Part II.
Happily for horror aficionados, however, that's about to change. It was announced earlier this month that Roth would helm The Green Inferno, a horror film he co-wrote with Aftershock writer Guillermo Amoedo. Plot details were scarce at the time, but we've now learned a little more about the basic premise. Read more after the jump.
(Interestingly, Natura contro was not conceived as a direct sequel to Cannibal Holocaust, but rather got the name Cannibal Holocaust II slapped onto it afterward in an attempt to market the film. That sort of marketing-based name change for imports and exploitation wasn't uncommon at the time.)
Roth and Amoedo's script centers around an idealistic band of do-gooders who crash land in the Peruvian jungle and get captured by man-eating tribes. The cannibal subgenre is one that's mostly fallen by the wayside in the last couple decades, so hopefully it'll be fun to see Roth try to breathe some new life into it.
Production on The Green Inferno is slated to get underway this fall in Peru and Chile. No release date has been announced at this time, but my guess is that it'll hit sometime in 2013. In the meantime, Roth fans can look forward to his Netflix series Hemlock Grove, which will debut in early 2013, and his Las Vegas haunted house the Goretorium, doors of which will open on September 27.