The Best Movies About Musicians You Probably Haven't Seen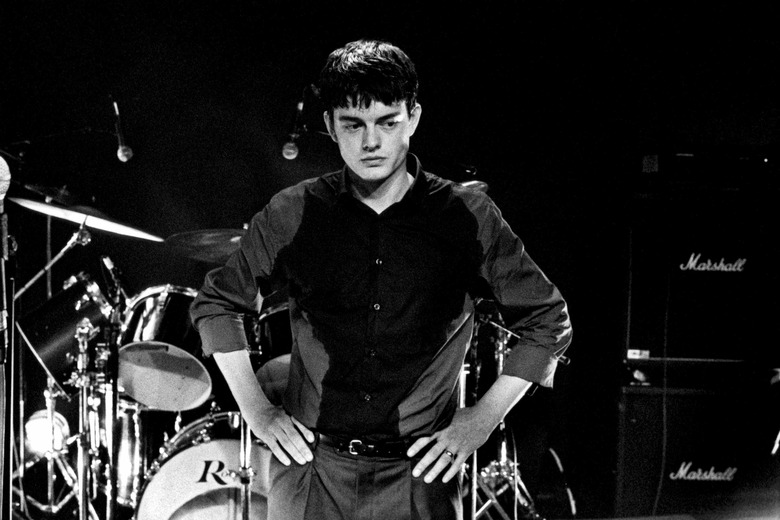 A little over a year ago I was in London. I went to the legendary jazz club Ronnie Scott's. At one point during a jam session a young Russian man in a thick coat and scarf (despite the warm weather) ran up on stage, blew his alto like it was nobody's business, then promptly disappeared despite calls for more. I knew that if I had a crew with me and access to that man's life I'd have the winner at next year's Sundance.
There's something wonderfully cinematic about a musician's life. If they are any good, they are usually half in our world and half in their own. Yet they are fluent in another language. Plus, unless they are playing the ukelele, they look really cool.
Here are eight of my favorite movies about musicians that aren't as well-known as they should be. Once isn't on the list. I'm assuming you saw that already. But if you saw the headline and were hoping to see a clip to that masterpiece, here's the "When Your Mind's Made Up" recording scene, which ranks alongside the final 45 minutes of Avengers as the most exhilarating piece of cinema from the last ten years.
'Round Midnight (1986); Bertrand Tavernier, director.
There's nothing more tragically romantic than the jazz artists of the 1950s. And this is a love poem to those tortured souls.
Originally intended as an adaptation of French diarist Francis Paudras' portrait of pianist Bud Powell, 'Round Midnight took on a life of its own when director Bertrand Tavernier cast saxaphonist Dexter Gordon as the lead actor. While Gordon avoided the rough addiction and mental health issues of the legendary pianist, he was an expatriate in Paris for fifteen years and knew Powell, as well as Lester Young, whose biography soon became fused with the character he portrayed.
This film is oozing legit mood, and if just one person is inspired to see it and make further in roads into mid-century jazz because of it, I'll have done my duty this week.
Hey, the entire film is on YouTube.
Bandwagon (1996); John Schultz, director.
The independent film explosion of the early 1990s worked in tandem with the independent music scene. By 1996 it was already commodified and co-opted, man, but a good narrative film that weaved the two had yet to coalesced. Singles doesn't count.
Bandwagon isn't perfect (if I recall correctly, the music was kinda subpar) but it wins lots of point for spirit. Plus anything with Kevin Corrigan in it is worth seeing. The moment when the four core members of the band rehearse in the garage and line up as a perfect album cover through the windows is a champion bit of filmmaking. (The director later went on to make Judy Moody and the Not Bummer Summer. Hey, work is work.)
Here's another one in full on YouTube.
Lush Life (1993); Michael Elias, director.
I know that trailer looks cheesy as all hell, but I swear to you that this is a good film. What it does so well is chronicle the day-in and day-out of a working musician, hustling gigs. One night you are working at a high class embassy function, the next night a tiny stage in a dive bar, then subbing in a Broadway orchestra pit, or in a recording studio for a TV commercial. It's a difficult life, but the people who are called to it form a bond – almost a military-like camaraderie.
Definitely check this one out for those reasons, plus to see Jeff Goldblum with flowing '90s hair.
One-Trick Pony (1980); Robert M. Young, director.
Written and starring Paul Simon, this is his cri de couer against the music industry, as seen by a version of himself without the cushion of a string of hits under his belt.
Is there room in the modern world for a humble singer-songwriter who just wants to play heartfelt music and have an uncomplicated love life? Probably, but that doesn't make for interesting cinema. Keep your eyes peeled for a slew of cameos, including Lou Reed, Harry Shearer, Daniel Stern, Sam & Dave, the Lovin' Spoonful and more.
BONUS! It was hard not to think of One-Trick Pony at 2011's SXSW Film Festival when watching Surrogate Valentine. It, too, is written by and stars a singer-songwriter, this time a young chap named Goh Nakamura. There are some road trip/buddy movie hijinks in Surrogate Valentine but it also is a terrific look at the life and loves of an acoustic musician.
Young Man With A Horn(1950); Michael Curtiz, director.
Now THAT'S a picture!
Kirk Douglas blows arpeggios, kisses dames and ruins his health on the sauce in this loose adaptation of Bix Biederbecke's life. (Fact: Bix Beiderbecke drank himself to death at the age of 28 on the same block in Queens that my friend Jason is now raising his two kids. There's a plaque and everything.)
The codes of 1950 cleaned this movie up a bit, but this is still the first big Hollywood production to tell the story of a "jazz man." Pianist and composer Hoagy Carmichael (who knew Beiderbecke) plays a supporting role and Harry James took all of Kirk Douglas' solos. What the film does well is explain how the early pioneers of jazz used improvisation to create a new artform. Listen to Bix Biederbecke change our culture at the 1:03 minute mark in this clip here. (That ZZZZZZZIP! At 1:31 is a spiritual cousin to Picasso's Les Demoiselles d'Avignon.)
Here's the whole film.
Thirty-Two Short Films About Glenn Gould (1993); Francois Girard, director.
Glenn Gould was a classical pianist who achieved rock star status in the 1950s. (He wasn't the only one – If he was the Beatles, Van Cliburn was the Rolling Stones!)
Gould was an eccentric (and a Canadian!) and his most famous recording was of Bach's Goldenberg Variations, which breaks out into thrity-two short bursts. This film is a barrage of short moments, some comic, some merely impressionistic, some mixing in animation or documentary, that tries to represent the essence of this creative titan.
The title of this film also represents one of the most obscure jokes ever on The Simpsons. It's also on YouTube in full.
Control (2006); Anton Corbijn, director.
When Control came out I refused to see it. I generally find biopics to be a bore, and Walk The Line and Ray, both fine, were testing my patience. Add to this the fact that the life and suicide of Ian Curtis was already covered in the very entertaining Steeve Coogan vehicle 24 Hour Party People. (On top of that, I always found the band that came after Ian Curtis' death, New Order, to be more interesting!)
So I missed it. And it ended up on all my friends' top 10 lists.
The thing is this: it may not have been a necessary film at the time, but it is really a remarkable portrait of depression within a unique context, and it is absolutely gorgeous to look at. I almost think it works better if you think of Joy Division as a fictitious band.
Superstar: The Karen Carpenter Story (1988); Todd Haynes, director.AND
Masked and Anonymous (2003), Larry Charles, director.
We're closing with two because these are obscure films that I think are worth seeing. . .even if I don't actually consider them "good."
Superstar you may know about – it is the biopic about Karen Carpenter done up with Barbie dolls. It was never released because the Carpenter family blocked it, but thank God for the Internet. It kick-started Todd Haynes' career and, for that alone, you should check it out.
Something else you may not know is that Bob Dylan has made quite a few movies – and I mean other than the D.A. Pennebaker doc Don't Look Back. Masked and Anonymous, a reaction of sorts to the Iraq War, is a giant mess (as is evident in the trailer) but has a number of really fun scenes. Who knows, Dylan was always years ahead of everyone else – maybe in a decade we'll realize that it is brilliant? It also has some terrific performance moments, like this one-take version of "Cold Irons Bound."
More Movies You Probably Havent Seen: