Behind The Scenes Footage: 'The Host,' Stephenie Meyer's Alien Possession Romance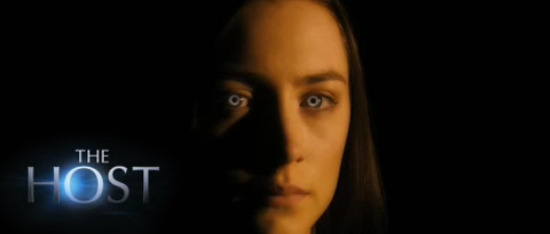 Twilight may be ending this year, but the work of author Stephenie Meyer isn't going to be away from screens for long. Andrew Niccol (Gattaca, In Time) wrote and directed an adaptation of Meyer's novel The Host, in which Melanie Stryder (Saoirse Ronan) forms a strange alliance with an alien parasite that is part of a race targeting Earth and humanity.
We've seen a very brief teaser for the film that really didn't show much in the way of footage. Now there is a bit of behind the scenes set visit video that shows some of the characters and sets. Check it out below.
MTV has this set visit:
I haven't read the novel, so I don't know what the story is with that cave/home  set that looks so much like a Tatooine dwelling. Regardless, while an adaptation of a new Meyer book isn't much of a thrill, there's always the appeal of a new Niccol film. (Let's hope for more than In Time delivered.) And Ronan has been a consistently good presence on screen, so that's a very positive factor. I doubt that we can look forward to anything quite like Hanna, but there's always a chance.
Here's the plot of The Host, which hits March 29, 2013:
Melanie Stryder [is] one of the last humans putting up a fight against an alien species called Souls. These parasites invade human bodies, fuse to each person's consciousness and systematically erase their personalities. Melanie is captured by the aliens and implanted by a Soul called Wanderer, something of a legend because of all of the "hosts" she has attached to on numerous planets. Wanderer's goal is to get Melanie to give up the remaining pockets of humans, but instead the alien finds Melanie to be unique in her unwillingness to surrender her consciousness. Wanderer is so overwhelmed by Melanie's memories and feelings, the alien is driven to reconnect with Melanie's old life.
The cast also includes Max Irons, Jake Abel, William Hurt and Diane Kruger.