TV Bits: Damon Lindelof Discusses That 'Lost' Finale, Plus: 'The Walking Dead', 'Dexter', 'Fringe', 'Smash', 'American Horror Story'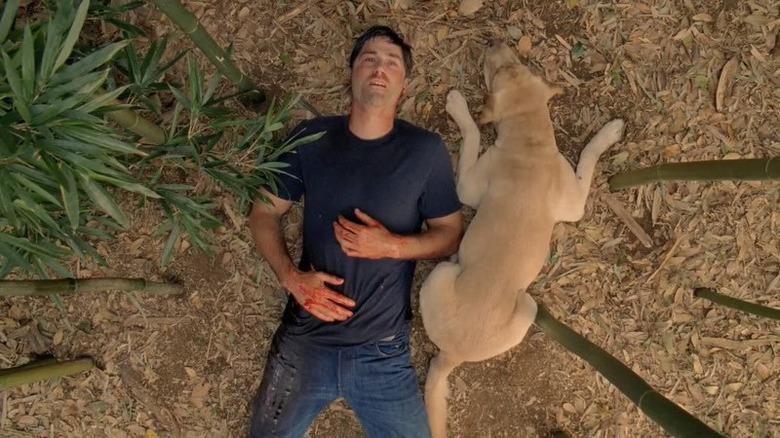 If you're still scratching your head over that ambiguous Lost finale two years later... well, this new interview with Damon Lindelof probably won't change that. But if you're one of the many fans who wondered just what in the hell Lindelof and Carlton Cuse thought they were doing, you'll want to watch the video after the jump. Also after the break:
A new preview for Season 3 of The Walking Dead
Cast members leaving Smash and Fringe
Former Luck star Jason Gedrick boards Dexter
American Horror Story Season 2 setting revealed
HBO unveils a new poster for Aaron Sorkin's The Newsroom
Meanwhile, an NBC show is about to drop four of its characters. According to EW, Dev (Raza Jaffrey), Ellis (Jaime Cepero), Frank (Brian d'Arcy James), and Michael (Will Chase) will be written off in the second season of Smash. Dev and Ellis are not expected to make even recurring appearances next season, which should please viewers who've long complained about the two characters. It may not be a quick fix to all of Smash's problems, but it seems like a good start.
As Fringe and Smash drop stars in preparation for their upcoming seasons, Showtime's Dexter is picking up new ones for its own. Jason Gedrick, last seen on HBO's short-lived Luck, has landed a multi-episode arc as a gentleman's club manager who becomes connected to a high-profile murder case. Gedrick joins Ray Stevenson, who was also recently cast in a new recurring role. [TV Line]
The chatty Ryan Murphy has spilled new details on the second season of FX's American Horror Story, which will start fresh with new characters and plotlines instead of continuing the story from last season. In an interview with Vulture, Murphy confirmed that Season 2 would take place at an asylum in the 1960s. As previously reported, the cast will feature some returning stars from last season in different roles, including Jessica Lange and Evan Peters, as well as new stars like Chloë Sevigny, Adam Levine, and James Cromwell.
It's set in an institution for the criminally insane that Jessica Lange's character runs, which is a really, really, really fun thing to do because you can write all these people locked up in it. And I guess if the first season was about infidelity, the second season is about sanity. What makes someone sane or insane? Sometimes the people you think are insane are actually the most sane of all. It's fun to write about people who society throws away.
I haven't said this publicly, but the new season is set in the sixties and Chloë Sevigny, for example, plays a character who was put in an asylum because she was a woman who likes sex, so her husband sends her away. At the time, you were able to put people away for that. Another character is institutionalized for being a lesbian. To me, there's nothing more scary than somebody coming to you and saying they're going to take you away and put you in a mad house and you have no legal rights and there you shall stay till the end of your days. That is a real horror. Everybody has felt people thinking, "You're fucking crazy." Even somebody saying that to you is scary.
Season 2 of The Walking Dead ended just a couple of months ago for viewers, but the cast and crew are already hard at work on Season 3. AMC has dropped a behind-the-scenes video that offers a little glimpse of the zombie-infested craziness to come in the new season, with appearances from stars Andrew Lincoln, Norman Reedus, Laurie Holden, and Steven Yuen, executive producers Gale Ann Hurd and Glen Mazzara, and more.
"As you can see, it's gonna get messy." Yes, please. Season 3 of The Walking Dead will premiere this fall. [via The Daily What]
One signature of Aaron Sorkin's work is the principled, prickly center, so this new poster for HBO's The Newsroom showing a very thoughtful Jeff Daniels seems just about perfect: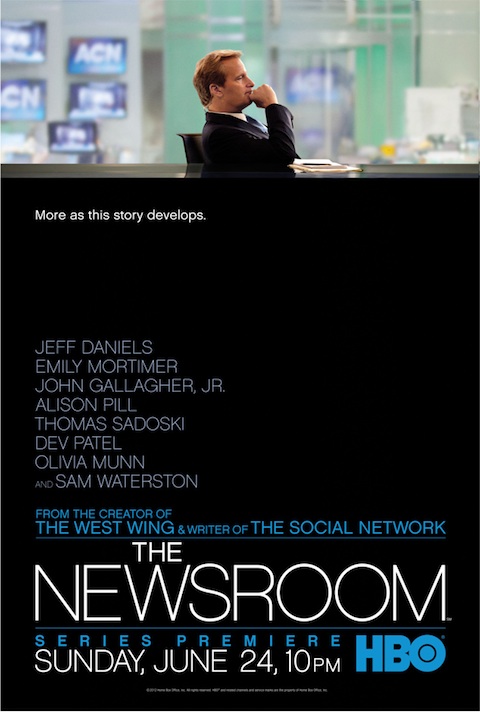 Those who've been following development of the series closely may recall that "More as this story develops" was a potential title for some time. It's a snappy phrase, but probably a better tagline than title. As the poster states, The Newsroom kicks off Sunday, June 24. [via Cinema Blend]
Two years after the controversial season finale, Lost showrunner Damon Lindelof is opening up about what, exactly, that ending was all about. To be clear, if what you're looking for is perfectly straightforward answers to all of the island's mysteries, you won't find that here. But if you've wondered just what Lindelof and Carlton Cuse were going for, or how they themeselves felt about the conclusion and the susequent fan reaction, Lindelof's conversation with The Verge is an interesting, illuminating watch.
[via Collider]