Details Revealed For 3D Simpsons Short Film 'The Longest Daycare'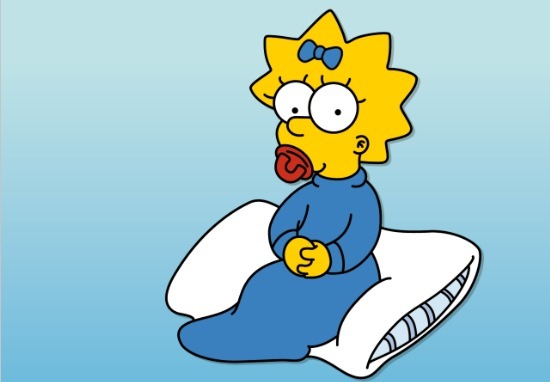 "It's hard to do a 20-minute Maggie episode, but in four minutes it's great. She's like Charlie Chaplin." That's Simpsons executive producer Al Jean describing to Entertainment Weekly why the youngest member of The Simpsons was chosen to star in The Longest Daycare, a four-minute 3D short film that'll play in front of Ice Age: Continental Drift when that film opens July 13.
Jean also discussed the origin of the project, its plot, who may or may not cameo and the possibility of another feature film. Read all that and more after the jump.
Jean spoke exclusively to Entertainment Weekly to reveal the details of The Longest Daycare:
[Executive producer] Jim Brooks thought we should do an animated short — a la the ones Pixar does before their features, a la the cartoons you used to see in the theater years ago — as a fun thing to give our fans. We just wanted to do this as a way of saying, 'We appreciate how much people have stayed with the show and watched it for 25 years.'
To that end, they chose Maggie because the character can't really anchor a full episode and they felt would work better in short form. The film is directed by David Silverman (The Simpsons Movie) and sees Maggie go back to the Ayn Rand School for Tots:
They put each baby through an airport security-style testing machine to measure their future and hers says 'Nothing Special', so they put her in an area that's not great. If they put her in a good area, it wouldn't be much of a plot....For a four-minute plot, it has a number of twists and turns... It's very sweet but funny.
The Simpsons EP also teased that some other family members would appear in the short. (You've gotta at least think Marge, right?) Maggie's unibrowed nemesis is definitely going to appear.
So did this short film maybe light the fire under The Simpsons team to make other movie?
There are no immediate plans for a feature, although as you see with this, you never know. It certainly made us excited to think that if we did another feature, maybe 3-D would be the way to go.
A 2D version of The Longest Daycare will play at The Simpsons panel at San Diego Comic-Con 2012. Are you excited to check it out?