'The Master' Teaser Clip - Paul Thomas Anderson's Latest Stars An Unstable Joaquin Phoenix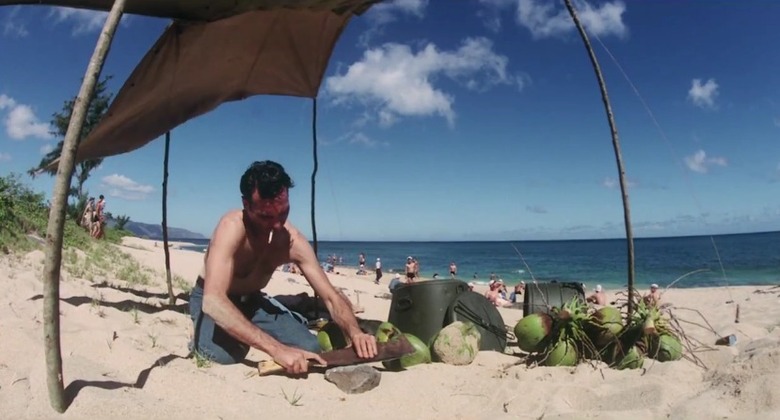 A week after getting our first glimpse of Philip Seymour Hoffman as religious leader Lancaster Dodd in Paul Thomas Anderson's The Master, we now have a first teaser to go with it. We don't get to see much more of Hoffman here, but what we do get is a nice long look at Joaquin Phoenix's Freddie, a charismatic young drifter who becomes Hoffman's second in command. Watch it after the jump.
[via Megan Ellison]
We have incredibly high hopes for this film – Anderson's first since 2007's There Will Be Blood– but if this footage is any indication, I don't think The Master will have any trouble living up to them.
The actual trailer is fairly simple: We hear an authority figure questioning Freddie about some "incidents" as we see snippets of his pre-Dodd life as a drifter. Nothing really major or catastrophic happens. But thanks to artful cinematography, intense acting, and eerie music (we assume by Jonny Greenwood, who signed on to score the film last year), there's a deeply unsettling feel to it all the same. It's the perfect first look, actually, since it hints at the goods to come without giving too much away.
Although The Master isn't officially about Scientology, it's widely assumed that the controversial religion was the inspiration for the movie. Hoffman stars as L. Ron Hubbard-ish figure "who returns after witnessing the horrors of WWII and tries to rediscover who he is in post-war America. He creates a belief system, something that catches on with other lost souls," with great help from his right-hand guy Freddie. But as the movement gets bigger, Freddie starts to question what he and Lancaster have built.
While this first clip focuses entirely on Freddie, Phoenix and Hoffman are just two of a talented cast that also includes Amy Adams, Jesse Plemons, and Laura Dern. The Master sails into theaters October 12.