Cool Stuff: 'Notebook Nerd,' Ballpoint Pen Artwork By Jim Rugg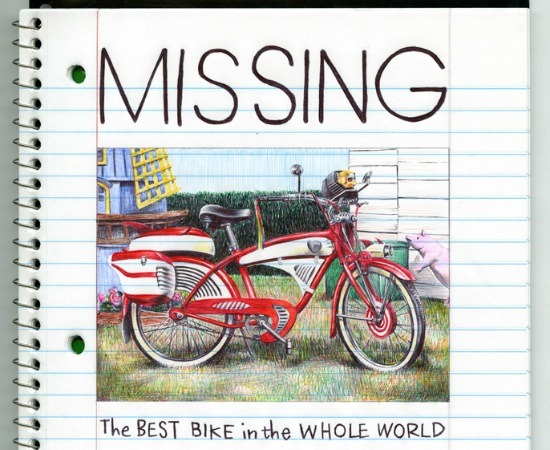 Who hasn't sat in a classroom with their notebook open, doodling away with a pen, dreaming they could one day sell those drawings as art? Comic book artist Jim Rugg has gone ahead and made that dream a reality. The artist behind indie titles Street Angel and Afrodisiac has an upcoming art show in Los Angeles featuring nothing but ballpoint drawings on spiral notebook paper. However, from that image above, you can tell these aren't your typical notebook doodles. They're beautiful pieces of one-of-a-kind art, many of which are pop culture themed.
After the jump, we're proud to exclusively reveal several movie related pieces from Notebook Nerd, which open May 25 at iAm8Bit. There are pieces from Drive, Total Recall, Pulp Fiction, Bad Lieutenant, Friday the 13th, Sexy Beast and others. Check them out.
Notebook Nerd by Jim Rugg will open from 7-11 p.m. on May 25 at iam8bit, 2147 W. Sunset Blvd., Los Angeles, CA.
Here's a bunch of art from the show. Note: The final image, from Total Recall, is NSFW.
For more information on the show, you can visit the official website as well as the Facebook invite. Here's the description;
The title is pretty self-explanatory, as "NOTEBOOK NERD" almost says it all. JIM RUGG, the Swiss Army Knife of artists (and longtime iam8bit collaborator), gives us an insane perspective inside his brainhole, exposing the terrors and delights that populate his thoughts every, single day. While his comics "Street Angel" and "Afrodisiac" have already been dubbed classics by the indie scene, Rugg's art in this show is different. It's truly an exercise in precision. His only tool: the mighty ballpoint pen; and his unlikely canvas – spiral-bound notebook paper.