'Star Trek' Bits: Leonard Nimoy's Set Visit, Alice Eve's Costume, Roberto Orci's Comment, And Peter Weller's Ship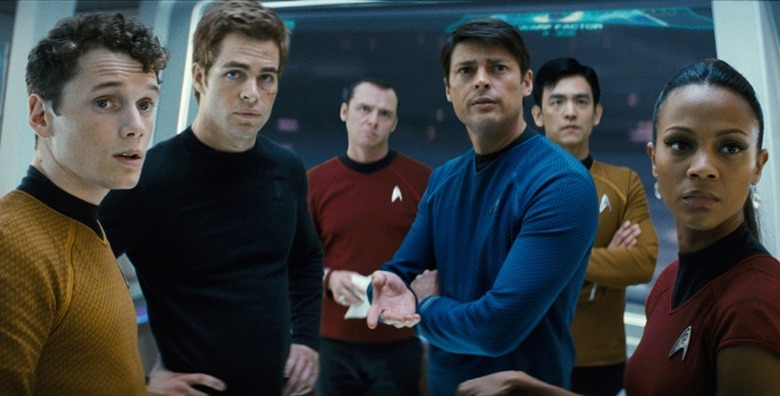 Filmmaker J.J. Abrams is known for his obsession with secrecy, but if anything, that only seems to heighten the amount of fan speculation surrounding his projects. So even as filming on Star Trek 2 (or whatever they end up calling it) comes to an end, the rumor mill is nowhere close to shutting down. After the jump:
Leonard Nimoy talks about his set visit
Roberto Orci emphasizes that the new sequel is not a remake
Check out the first photo of Alice Eve in costume
Peter Weller drops hints about his mysterious character
I visited the set one day and that started some speculation about whether I was doing the film. It's all speculation. I talk to these people regularly. Zachary Quinto and I have dinner whenever we can. We just had dinner three or four weeks ago. I talk to J.J. about family. His parents and I go back a number of years as friends. I knew them long before I ever met J.J. So we talk regularly. I visited the set one day because I had never seen the bridge. When I was in the last film, none of my work was on the bridge of the Enterprise. So I wanted to see the bridge, and the bridge was extraordinary. It's beautifully designed and put together. We talk. It's great. I expect that it's going to be a gigantic film. Look, I think he's put together a wonderful cast of people. His writers are imaginative and energetic. I think we're going to see another great Star Trek movie.
That explanation still leaves the possibility of a cameo wide open, but on the other hand, I suppose it could be the case that he really was just curious about the bridge set. On an unrelated note, how cute is the idea of the two Spocks having dinner with the younger Spock's parents? I hope they do it in full costume and everything. Head to StarTrek.com (part 1, part 2) for the rest of the interview. [via TrekMovie.com]
Another mystery surrounding the new movie is exactly whom franchise newcomer Alice Eve will be playing, but the first photo of her in costume on set offers a couple of small hints about her character.
Eve and Quinto, who plays Spock, seem to be similarly dressed, in what appear to be Starfleet uniforms. Although a previous comment from the actress about spending a lot of time in the makeup chair led fans to wonder if she was playing some type of alien, it's also clear that Eve's character is human or at least humanoid. Unless she's got some freaky ears tucked away under that sleek blond bob, which is definitely possible. [via TrekMovie.com]
Along the same lines, fans have been puzzling over exactly how franchise newcomer Peter Weller (RoboCop) would fit into the film. Unsurprisingly, the actor says he's promised to keep his lips sealed. "I can't tell you. I'm sworn to secrecy. It's something very cool," he told press during a red carpet conversation.
But Weller did offer a few slight hints. Asked whether he would be playing an alien, Weller responded, "No. Do I look like an alien to you? No man. Let me put it this way. I have my own ship." He then showed the interviewer a photo of his baby son dressed in a yellow captain's shirt and sitting in the captain's chair of what was either the USS Enterprise, or a similar-looking ship.
In addition, Weller's agent Todd Eisner has previously said that Weller's role in the Star Trek sequel would be "substantial," and that he would be playing "a C.E.O." All right, Trek fans — time to put your sleuthing skills to good use. TrekMovie.com, for one, already has a few ideas.
(Potential spoilers follow in the next item.)
There's been a lot of back and forth about whom exactly the villain of Star Trek 2 would be, with several sites reporting last week that Benedict Cumberbatch would indeed be playing the notorious Khan. That naturally led to the speculation that the new film would be similar to either the Star Trek episode "Space Seed" or the film The Wrath of Khan, but co-writer/producer Roberto Orci is eager to shut down that line of thinking. In a comment at TrekMovie.com, Orci stressed: "No remakes. No rehashes."
Does that mean Cumberbatch won't be playing Khan? Not necessarily. If he is, however, it sounds like it'll be a fresh take on the classic character rather than a simple do-over — which is probably for the best, anyway. At any rate, all will be revealed when the film hits May 17, 2013.