NBC Renews 'Parks & Recreation', 'Up All Night', 'Whitney', Cancels 'Awake'; ABC Re-Ups On 'Happy Endings', 'Suburgatory', 'Revenge', 'Once Upon A Time'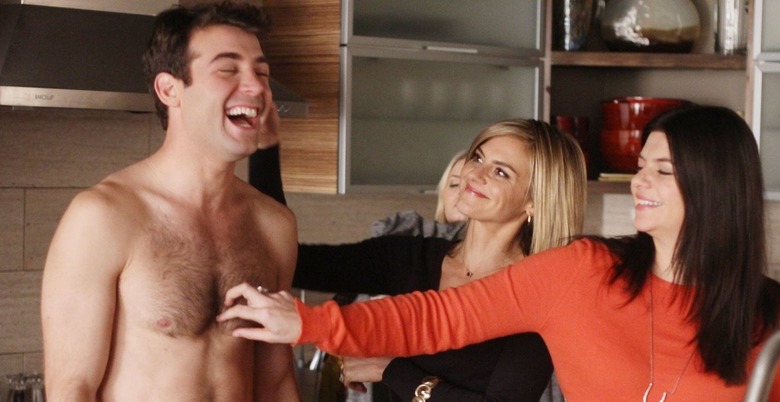 For better or for worse, networks are finally sorting out their schedules for the 2012-2013 season, which means renewals and cancellations are being announced left and right. Viewers of NBC and ABC's comedy lineups will be happy to see most of their favorites safe for another year, but Awake fans should prepare to say goodbye. Hit the jump for the latest news on the two networks' upcoming schedules.
In addition, NBC has just added another brand-new title to its comedy lineup, ordering six episodes of the Dane Cook starrer Next Caller. The single-camera series pits a macho radio DJ (Cook) against his new feminist co-host (Collette Wolfe) in a battle of the sexes. Next Caller is NBC's seventh new comedy for the 2012-2013 season.
The news is darker, however, on the drama side. NBC has given the axe to Awake, the Jason Isaacs-starring drama that debuted to strong reviews and weak ratings earlier this year. NBC's other cancellations include the comedies Are You There, Chelsea?, Best Friends Forever, and Bent.
Over at ABC, comedies Happy Endings, Modern Family, The Middle, and Suburgatory, as well as dramas Grey's Anatomy, Castle, Revenge, and Once Upon a Time, have all survived the cut. Positive word on Last Man Standing, Scandal, and Private Practice is expected to hit soon, while The River and Pan Am are considered likely cancellations. GCB, Missing, and Body of Proof remain on the bubble.