Wizarding World Of Harry Potter Coming To Universal Studios Japan In 2014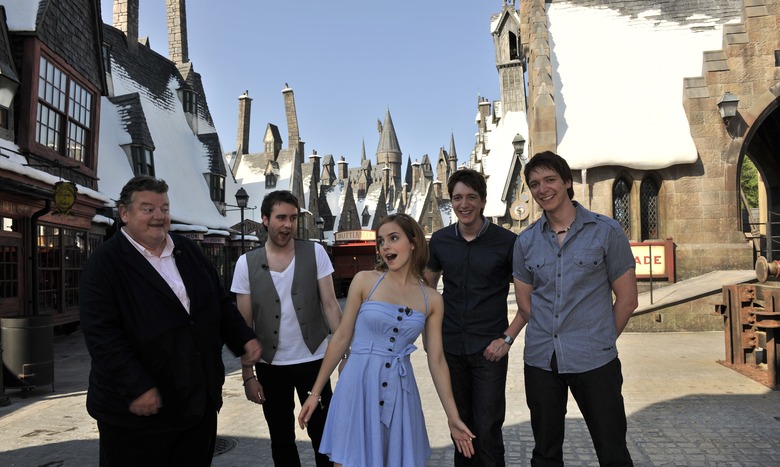 J.K. Rowling may have envisioned Hogwarts as a Scottish institution, but the school of witchcraft and wizardry is traveling all over the world these days. Warner Bros. and Universal Parks and Resorts have just revealed plans to open a Wizarding World of Harry Potter in Osaka, at Universal Studios Japan.
The Osaka park is the third Wizarding World of Harry Potter to be announced, and would be the first location outside of the U.S. The first Wizarding World opened to wild success at Universal Orland's Islands of Adventure park back in 2010. More details after the jump.
The entire Osaka project is estimated to have a hefty price tag of around $500 million. Considering that the first Wizarding World of Harry Potter in Orlando increased park attendance by 68%, though, it's sure to be a sound investment. The Osaka attraction will offer many of the same features as the original Orlando one, including Hogsmeade Village and the Hogwarts castle.
The Harry Potter franchise has been phenomenally popular in Japan, just as it has in many other parts of the world. According to the LAT, the eight films together grossed almost $900 million in Japan, and the seven-book series accounts for four of Japan's ten best-selling titles of all time.
In addition to the Wizarding World of Harry Potter parks in Osaka and Los Angeles, Universal Parks and Resorts also has a major expansion planned for the Orlando that's rumored to include a Hogwarts Express train, Diagon Alley, and Harry Potter's London. Not surprisingly, the company is already considering launching still more Wizarding Worlds in other cities. Meanwhile, the company is also working on building new (not necessarily Harry Potter-related) parks in South Korea, Dubai, and Russia.