Taylor Lautner Gets A New Movie: Bike Messenger Parkour Action Flick 'Tracers'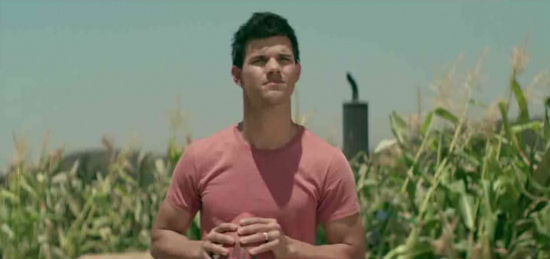 The Twilight series will be over later this year, and while Kristen Stewart has successfully moved towards both indies and big-budget fare, and Robert Pattinson has begun to cultivate an art-house career, third Twilight star Taylor Lautner hasn't been quite as successful. He starred in Abduction and has Grown-Ups 2 coming up, but a couple other big-ticket movies planned for the young actor have vaporized before getting the green light.
Now Twilight producer Wyck Godfrey is trying again with Lautner, and is selling the action thriller Tracers at Cannes. Lautner would star as a bike messenger who is pulled into the world of parkour.
A press release describes the plot:
New York City bicycle messenger, Cam (Lautner) is the hottest thing on two wheels, but is in debt to an organized crime gang.  When he crashes his bike into a sexy stranger, Nikki, Cam is immediately seduced by her and the thrill of the world of parkour.
Directing is Daniel Benmayor, who made the films Bruc, the Manhunt and Paintball. Not having seen either one I can't make any guesses about what we can expect from his work on this one.
We probably can make some guesses just based on the plot description of this one: looks like Tracers isn't bothering to attempt any deviation from the 'young sexy hunk' persona that has been cultivated for Lautner. And we probably shouldn't expect anything else, but until we see footage (if this one even gets to shoot) it's probably safe to say that anyone who isn't already Team Jacob can likely wait for the Netflix stream.
Also: doesn't this sound just enough like the Joseph Gordon-Levitt movie Premium Rush, albeit with added roof-running?