TV Bits: Frank Darabont's 'L.A. Noir' Adds Two More 'Walking Dead' Alums, Plus: 'Community', 'Boardwalk Empire', 'Luck'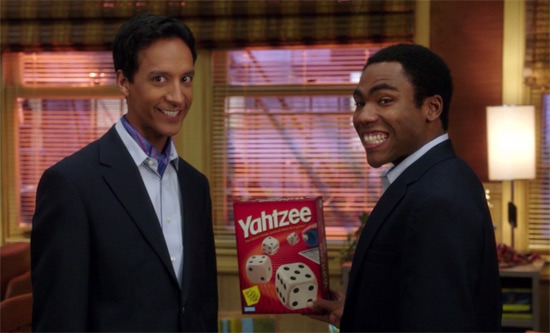 If you were one of the diehard fans who stuck with Community through its three-month hiatus, you're about to be rewarded with not one, not two, but three new episodes in one day. Also after the jump:
More Walking Dead alums follow Frank Darabont to L.A. Noir
Boardwalk Empire will jump forward in time for Season 3
Luck's failure costs HBO a ton of money
Apparently, L.A. Noir is where The Walking Dead stars go when they die. (SPOILERS for Season 2 The Walking Dead follow, obviously.) Jon Bernthal was the first to make the leap to former Walking Dead showrunner Frank Darabont's new TNT pilot back in January, and now he's being joined by Jeffrey DeMunn and Andrew Rothenberg.
Set in '40s and '50s Los Angeles, L.A. Noir follows the true-life conflict between police chief William Parker (Neal McDonough) and mob boss Mickey Cohen. TV Guide reports that DeMunn will play Hal Morrison, a detective at the top of the LAPD's mob squad, while Rothenberg has landed a guest role as Eddy Sanderson, who works with Hal. [via Vulture]
The title of HBO's Luck sounds mighty ironic in retrospect, doesn't it? Despite its pedigree, the David Milch-created horse-racing drama fell flat in the ratings when it debuted this past winter, and things only got worse when the death of three of its equine stars ultimately led to HBO cancelling the horse racing drama altogether. Exactly how much of a flop the show ended up being has now been revealed in Time Warner's first quarter earnings release, which indicates that HBO took a $35 million impairment charge for the axed series.
Fortunately for Time Warner, its losses from Luck were offset by success on other fronts. Overall revenue for the company actually rose by 4% compared to the same period from last year. [Deadline]
After a three-month hiatus that had fans fretting about the show's possible demise, Community will be closing out its third season with a bang. NBC has shifted the two-episode finale of Community from Thursday, May 24 to Thursday, May 17, where it will air right after the non-finale episode originally planned for that date. Yes, Community fans: That means the network will air three new episodes of the comedy on the same night.
As for whether that'll be the last we ever see of the series, though, the jury's still out. NBC has not yet renewed the comedy for a fourth season, though it is expected to announce a decision before its upfront presentation on May 14.
But we can worry about that later. For now, here's what we can expect from the three new episodes that'll air May 17, via Screen Crush. (SOME SPOILERS for upcoming episodes follow.)
COMMUNITY -"DIGITAL ESTATE PLANNING"
PIERCE AND THE STUDY GROUP PAY A VISIT TO HAWTHORNE ENTERPRISES – GIANCARLO ESPOSITO GUEST STARS – Pierce (Chevy Chase) is summoned to Hawthorne Enterprises to discuss his inheritance with his deceased father's former right-hand man, Gilbert Lawson (guest star Giancarlo Esposito, "Breaking Bad"). The study group goes with him for moral support and must all pitch in to play the video game of their life on Pierce's behalf – or risk losing his inheritance.
COMMUNITY – "THE FIRST CHANG DYNASTY"
THE STUDY GROUP MOBILIZES TO TAKE BACK GREENDALE – With Chang (Ken Jeong) in control of Greendale, the study group develops an elaborate plan to infiltrate the campus without being detected. While Chang becomes distracted planning a big birthday bash for himself, Jeff (Joel McHale) and the study group launch their sneak attack. Meanwhile, Troy (Donald Glover) enlists the help of the Air Conditioning Repair Annex to help with their break-in plan but knows he may be selling his soul to the devil.
COMMUNITY – "INTRODUCTION TO FINALITY"
JEFF GOES UP AGAINST HIS FORMER LAW FIRM COLLEAGUE ALAN CONNOR IN GREENDALE SUMMER FUN COURT – ROB CORDDRY AND JOHN GOODMAN GUEST STAR – When Shirley (Yvette Nicole Brown) and Pierce (Chevy Chase) have a disagreement over their sandwich shop, Jeff (Joel McHale) agrees to argue on Shirley's behalf but much to his chagrin, Pierce retains Jeff's former colleague Alan Connor (guest star Rob Corddry, "Hot Tub Time Machine") and the two must square off in "Greendale Summer Fun Court." Meanwhile, Vice Dean Laybourne (guest star John Goodman) makes one last ditch effort to win Troy (Donald Glover) over to his Air Conditioning Repair Annex.