Three Minute 'Prometheus' International Launch Trailer Wows With New Footage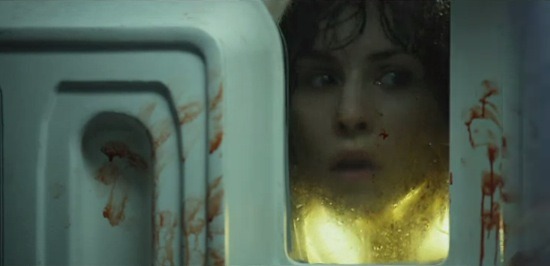 The first Prometheus teaser trailer was fantastic, right? Just the right amount of visuals and plot to get us hooked. Fox followed that last month with the phenomenal theatrical trailer which almost too much to handle. For many of us, the second trailer already revealed more than we wanted to know from Ridley Scott's Alien prequel starring Noomi Rapace, Charlize Theron, Michael Fassbender and Guy Pearce. However, surely some people want more. Possibly a lot more.
If anyone is hungry for the best look at Prometheus yet, this brand-new, three-minute international launch trailer delivers the goods. Longer than each of those trailers, this one is filled with way more story and spoilers than the other two combined. Check it out below.
Thanks to Empire Magazine for posting this trailer which aired over the weekend in the UK. Again, beware that at 3 minutes it's filled with new footage and hints at the plot that anyone who is hoping to stay spoiler free from the film will likely find upsetting.
If you're still here you obviously watched the trailer. We all had a feeling Theron's character filled the evil corporate void in Prometheus and now we have the visual evidence. We also have audio of Rapace's character saying "Get it out of me" which has obvious Alien implications and the creature that seems to pop-up from the ground has very Facehugger feel. Also what's up with those figures seemingly made of dots? I'm sure in the comments below you'll find even more clues linking Prometheus to Alien.
The film will be released in the US on June 8. Here's the description:
Ridley Scott, director of "Alien" and "Blade Runner," returns to the genre he helped define. With PROMETHEUS, he creates a groundbreaking mythology, in which a team of explorers discover a clue to the origins of mankind on Earth, leading them on a thrilling journey to the darkest corners of the universe. There, they must fight a terrifying battle to save the future of the human race.