'This Is 40' Trailer: Judd Apatow's Midlife Crisis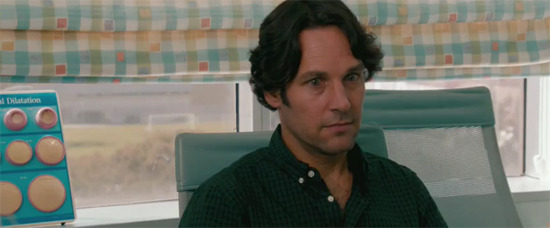 Here's the trailer for Judd Apatow's This is 40, a film that is sort of a sequel to Knocked Up (as the trailer admits) and apparently an articulation of midlife angst from the writer/director/producer.
Paul Rudd and Leslie Mann are a married couple hitting 40, and the looming milestone (does anyone call it "over the hill" any longer?) has Mann's character feeling a bit sensitive about her life achievements. Which is difficult to really figure out, since she seems to have a good family, a nice house, her health, and so on. But being forty makes her unhappy, and that makes Rudd unhappy, and hopefully it is all funny. See the trailer below.
So... I'm not sure what the story is here. And I'm nearly 40 (six months to go!) and little of this angst is familiar to me. I've got a lot of 40 or nearly-40 friends, and men and women alike are all pretty open with each other about what we're worried about and afraid of. There's not much in the trailer that reflects attitudes and experiences we've had. (Paul Rudd may be the exception. His expression in the doctor's office scene pretty much matched mine while watching this trailer.) Then again, my life and the lives of my friends aren't all based on traditional paths of marriage –> career –> kids and so on, and paths like that seem to be the foundation for these characters.
And with the exception of actors and kids who are trying to drink at 15, who lies about their age these days?
Apple has the trailer. This is 40 also features Jason Segel, Lena Dunham, Megan Fox, Chris O'Dowd, Melissa McCarthy, Charlyne Yi, Albert Brooks, John Lithgow and Annie Mumolo. It opens on December 21.
Writer/director/producer Judd Apatow (The 40-Year-Old Virgin, Funny People) brings audiences This Is 40, an original comedy that expands upon the story of Pete (Paul Rudd) and Debbie (Leslie Mann) from the blockbuster hit Knocked Up as we see firsthand how they are dealing with their current state of life.