Jack White To Score 'The Lone Ranger;' Moby Scoring 'The Necessary Death Of Charlie Countryman'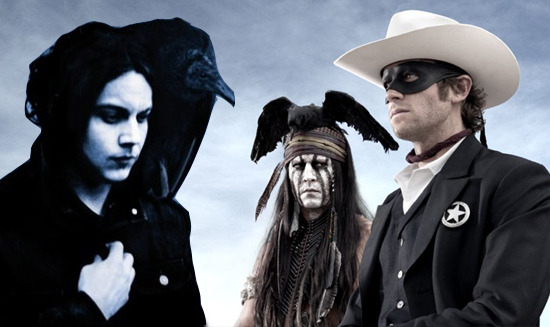 There's some big movie score news today. Earlier this afternoon Moby was announced as the choice to score The Necessary Death of Charlie Countryman, which has Shia LaBeouf, Evan Rachel Wood, Mads Mikkelsen, Melissa Leo and Til Schweiger lined up to star in a story about a guy (LaBeouf) who falls for a girl (Wood) in Europe, only to run afoul of her mobster boyfriend (Mikkelsen) even as his dead mother (Leo) occasionally offers him advice.
It's Moby's first job scoring an entire film, which seems fairly surprising given the degree to which film scores have had an impact on his own work. Then again, Moby isn't someone whose career I've followed all that closely, so it's possible that I've missed other flirtations with full scores. But this quirky, noirish story might be a good fit for him.
The news of Moby's score is eclipsed, however, by Disney's announcement that Jack White will score The Lone Ranger, which Gore Verbinski is directing with stars Johnny Depp and Armie Hammer. Details on that are below.
Jack White has done some film work in the past; he did the theme for Quantum of Solace, with help from Alicia Keys, and recorded songs for Cold Mountain. But this is a pretty big milestone for him, as according to Disney White will write, produce, and perform the score for The Lone Ranger. (Brings to mind the guitar-based score for another Johnny Depp western: Neil Young's truly awesome music for Dead Man.)
Here's what Disney announced today, timed to the release of White's latest solo outing, which features a cover image (excerpted above) that looks like it was made almost specifically to echo Johnny Depp's look as Tonto:
The Walt Disney Studios announced today at CinemaCon that Jack White will write, produce and perform the score for Walt Disney Pictures and Jerry Bruckheimer Films' highly anticipated The Lone Ranger. White, who today released his first solo album "Blunderbuss" to critical acclaim, is a musician, singer, songwriter and producer who first achieved notoriety as the lead guitarist and vocalist of the rock band The White Stripes and then as a member of The Raconteurs and The Dead Weather.  The Lone Ranger will mark White's first foray into feature film scoring. The Lone Ranger, directed by Gore Verbinski and featuring Johnny Depp as Tonto and Armie Hammer as John Reid, the Lone Ranger, is a thrilling adventure infused with action and humor in which the famed masked hero is brought to life through new eyes. Native American spirit warrior Tonto recounts the untold tales that transformed John Reid, a man of the law, into a legend of justice—taking the audience on a runaway train of epic surprises and humorous friction as the two unlikely heroes must learn to work together and fight against greed and corruption. The Lone Ranger is produced by Jerry Bruckheimer and hits theaters May 31, 2013.
While we're on the subject of scores, The Playlist today reported that Thomas Newman will score The Bitter Pill for Steven Soderbergh. That represents a slight change for the filmmaker, whose last few films have had scores from Cliff Martinez and David Holmes. But Soderbergh and Newman have worked together before, on Erin Brokovich and The Good German.
The thriller The Bitter Pill features Rooney Mara, Channing Tatum, Jude Law, Catherine Zeta-Jones and Vinessa Shaw, and will be released on February 8, 2013.