Early Buzz: EW's Anthony Breznican Reviews Tim Burton's 'Dark Shadows' On Twitter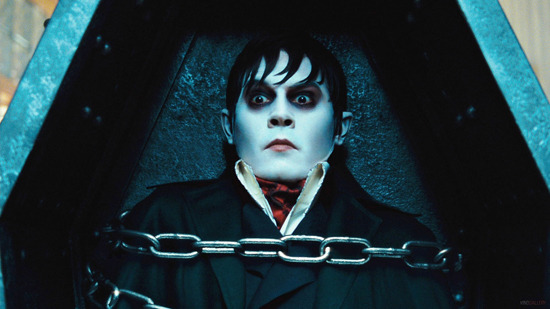 Now that a bunch of people have seen the summer's first blockbuster, The Avengers, our eyes wander down the calendar to the summer's second weekend: May 11. There's just one wide release that day (likely because studios were still afraid of Marvel's team up) and it's Tim Burton's Dark Shadows starring Johnny Depp, Helena Bohnam Carter and Michelle Pfeiffer. Since the release of the trailer, fan interest has piqued as the film seems to be a return to the Burton of old, a frightening setting filled with weirdness and humor ala Pee Wee's Big Adventure, Beetlejuice and Edward Scissorhands.
Do Burton and Depp succeed in that aim? Entertainment Weekly senior writer Anthony Breznican has seen the movie and tweeted some thoughts over the weekend. Check out his tweets after the jump.
Here are the tweets from @Breznican on Twitter.
I've seen final cut of Dark Shadows. Tone similar to Burton and Depp's Sleepy Hollow – lots of humor, but with menacing, atmospheric edge.
— Anthony Breznican (@Breznican) April 14, 2012
In Dark Shadows, there's an absurdist bent to the monster element. The creatures of the night are adrift in the self-obsessed world of 1970s
— Anthony Breznican (@Breznican) April 14, 2012
In typical Burton fashion, humans are scarier than the fiends. If u want Interview w the Vampire, that movie exists. This is a more wry take
— Anthony Breznican (@Breznican) April 14, 2012
A follow then replied with, "Good?"
@TimothyDowling Yes, w qualifier. You won't think it's good if you want somber, serious scares. But if you like Buffy, you'll like this.
— Anthony Breznican (@Breznican) April 14, 2012
Breznican stopped at giving the film a grade, but it does sound like he enjoyed it somewhat.
I know when I heard Burton and Depp were reteaming for this film, it certainly seemed like it was going to be a "somber" horror movie but then the trailer totally swayed me. That was the point, said screenwriter Seth Grahame-Smith, when I spoke to him at WonderCon:
It's a funny movie. But I will say it's also a Gothic, dark movie and there's also a lot of soap opera in it. I mean the movie is a lot of different things, just like the soap opera was a lot of different things. I think that we weren't afraid to let Johnny [Depp] invent this character and be funny. I think if you were just going to do a straight forward, soap opera for two hours, I think people would get bored. I think people want to be entertained. So I think we've found a great way to entertain people but also stay true to some of the origins of the series.
So now we have buzz on three major May releases: The Avengers, Dark Shadows and Battleship. Next up? MIB3.
Are you looking forward to Dark Shadows?