Producer Reveals Details For Ashton Kutcher's Steve Jobs Movie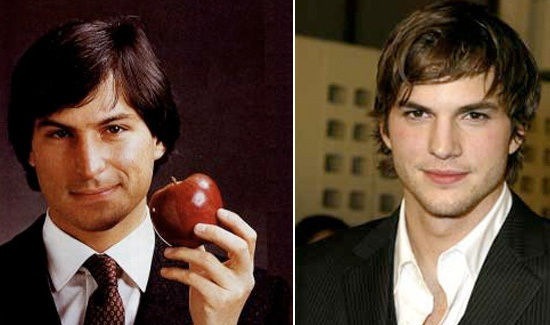 It remains to be seen whether or not Ashton Kutcher really can pull off the role of Steve Jobs – I'm still skeptical — but at least now we have a little more detail about the circumstances under which the Two and a Half Men star will be playing the late Apple founder. In a recent interview, first-time producer Mark Hulme spilled the beans on the movie's focus, what he saw in Kutcher, which other real-life tech gurus will be represented in the film, and more.
Whereas Sony's similarly themed project will be based primarily upon Walter Isaacson's bestselling biography Steve Jobs, Hulme said Jobs: Get Inspired would draw from "a wealth of source material" and "the support of primary sources who knew him personally." Hulme expressed no concern over competition from Sony's movie. "Sony is a highly respected company, and Isaacson's book is a great read," Hulme said. "But our project was in development even before the release of Isaacson's book and our movie will be out well before their movie."
As for how exactly Kutcher landed the plum lead role, Hulme explained:
Since our film covers the early years of Apple, when Jobs was in his 20's, we needed an actor who could carry not only the youthfulness of Jobs at the time but also the psychological complexity. Because of that, and Ashton's physical similarities to Jobs, he's perfect for our film. (...) When Ashton read the script he was immediately attracted to the project. He is a Steve Jobs and Apple fan, and is technologically savvy, as well, so he recognized the historical importance of Steve Jobs and the potential of the project. He is very excited to have the role.
Convinced yet? There's no denying that Kutcher bears a resemblance to young Jobs, but it's the "psychological complexity" part that trips me up. I haven't seen anything to convince me that he can bring the depth and nuance that a part like this requires — though on the other hand, I can't recall the last time I saw him really try, either. In any case, it won't be long before we know for sure. Jobs: Get Inspired is scheduled to start shooting this May in Los Angeles and, according to Hulme, will be released in the fourth quarter of 2012.