VOTD: Steven Spielberg Cameos In SNL's 'Laser Cats'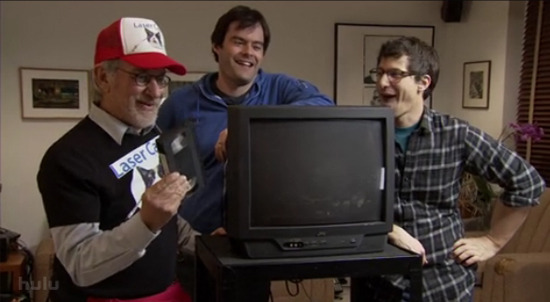 Saturday Night Live was partially revived as a cultural force thanks to the Digital Shorts created by The Lonely Island team of Jorma Taccone, Akiva Schaffer and Andy Samberg. In the several years since 'Lazy Sunday' was one of the first mainstream web video hits, we've seen dozens of Digital Shorts come and go.
All told, Laser Cats 7 isn't anywhere near the top tier of SNL Digital Shorts when it comes to comedy, but this one does boast something others don't: Steven Spielberg. The short features the director pitching an idea to SNL producer Lorne Michaels, and as the pitch plays out we see echoes of most of Spielberg's major films.
The video is after the break, but as with many clips hosted on Hulu and NBC, those outside the US may not be able to view. Apologies for that, as the restrictions are out of our control.
The attraction here isn't the jokes, but the sight of Spielberg having fun with his own image. In that respect, it's a good little bit. Jokes that work would have made this one for the ages, but as is, we'll take it.