Tony Stark Pours A Drink, Explains The Avengers To Loki In Another New Clip [UPDATED With New TV Spot]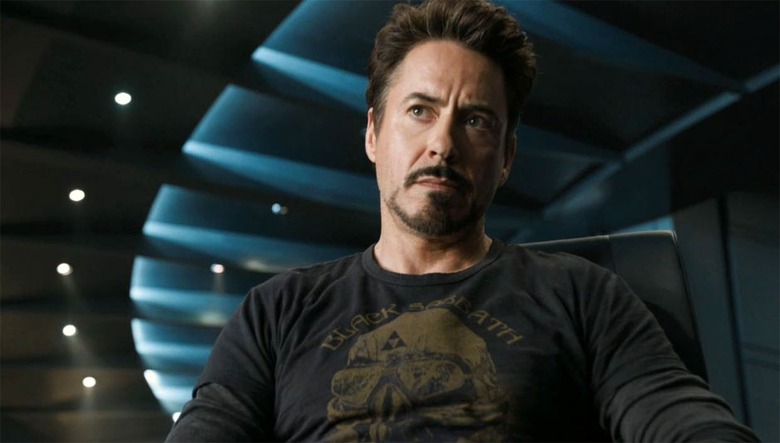 At the rate we're getting new clips from The Avengers, we'll have seen the whole thing before it actually hits theaters next month. Today brings yet another new scene, which I think it may be my favorite yet. Robert Downey, Jr. demonstrates his trademark cool as Tony Stark, calmly and helpfully reminding Loki (Tom Hiddleston) how powerful the Avengers are — and how very upset they are with him. Watch the one-minute clip after the jump.
Update: Marvel's also unveiled a cool new TV spot centered around Loki's beloved brother Thor. Check it out after the jump.
I have to say, even among this star-studded lot, Downey's on-screen charisma stands out. Not to say that Mark Ruffalo, Chris Hemsworth, Chris Evans, Scarlett Johansson, Jeremy Renner, Samuel L. Jackson, Cobie Smulders, etc. aren't greatly talented as well, but as Stark, Downey's always been downright magnetic. Hiddleston capably holds his own here, though, managing to get his character's nasty side across without getting too cartoonishly villainous. I could watch these quietly challenge each other for days.
And yet, I kind of wish the scene had ended a few seconds earlier. I can only imagine (and hope) that the "If we can't protect the Earth, you can be damn well sure we'll avenge it" line works better in context, but out of context it sounds pretty silly.
The just released TV spot is below:
[via SuperHeroHype]
Click here to watch the previous clip of Nick Fury (Jackson) and Maria Hill (Smulders) sharing tense words, and here to see Black Widow (Johansson) demonstrate her considerable fighting talents.
Directed by Joss Whedon, The Avengers opens May 4 in the U.S.
When an unexpected enemy emerges that threatens global safety and security, Nick Fury, Director of the international peacekeeping agency known as S.H.I.E.L.D., finds himself in need of a team to pull the world back from the brink of disaster. Spanning the globe, a daring recruitment effort begins.