'X-Men: First Class' Sequel Shoots In January, To Work Around Jennifer Lawrence And 'The Hunger Games' Sequel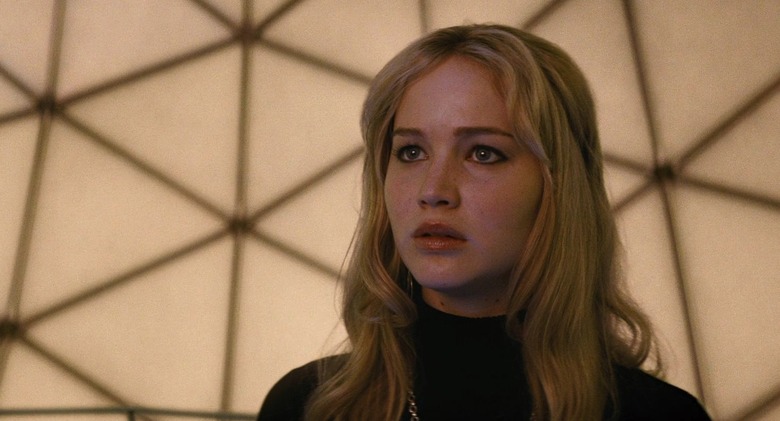 The last real news we had on the film that will follow X-Men: First Class was that director Matthew Vaughn, who co-authored the rewrite of First Class (with Jane Goldman) and then made the film on a rather tight schedule, had signed to direct the sequel.
Now it looks like that next X-Men film will shoot in January 2013. The reason is one that shouldn't come as much of a surprise to anyone who has looked at the top-grossing movie for the last couple weeks. Jennifer Lawrence played Mystique in First Class, but is also now the lead of the blockbuster film The Hunger Games, with a sequel close on the horizon. That means that X-Men studio Fox and Hunger Games studio Lionsgate both have films they want to get into production, and both involve Lawrence. (And you can bet that Fox wants to emphasize Lawrence in any way possible now, after the runaway success of The Hunger Games.)
The solution will likely be this: Lawrence will shoot Catching Fire, the Hunger Games sequel, later this year, and then shoot the next X-Men film in January.
THR says that sources report "Fox is informing talent agencies Thursday that the studio plans to begin shooting its in-development sequel to X-Men: First Class in January."
Originally Fox wanted to shoot the X-Men film this fall, which created a conflict with Lionsgate. Fox had Lawrence first, and has her contractually bound by an option to do the X-Men sequel. So Fox could potentially have exercised that option, forcing a conflict with Lionsgate. But things are worked out now, freeing up Catching Fire to shoot in August or September of this year, with X-Men rolling in January.
We can also expect actors such as Michael Fassbender and James McAvoy to return to the X-Men fold next year. Now that the schedules have been worked out, we may start to hear some real details about Fox and Vaughn's plans for the film, too, which is being written by Simon Kinberg.
On the Hunger Games side, there still isn't a deal to put Gary Ross back in the director's chair, but any negotiating conflicts on that front are expected to be resolved soon.