Sequel Bits: 'Skyfall', 'Prometheus', 'Dumb And Dumber 2', 'Men In Black 3', 'Blade II', Sam Raimi's 'Spider-Man'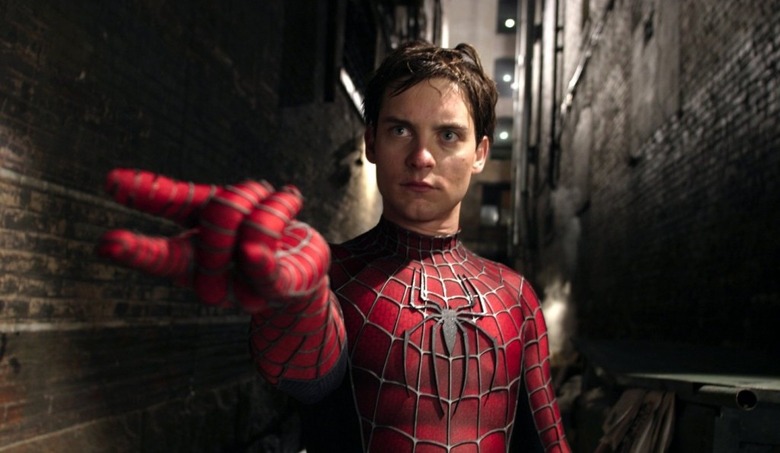 Before we launch into the Andrew Garfield era of the Spider-Man movie franchise, Sony would really like it it you revisited the Tobey Maguire age one last time with its upcoming Blu-ray reissues of the Sam Raimi films. Also after the jump:
Sony drops the first TV spot for Men in Black 3
Blade 2's Blu-ray reissue will feature Guillermo Del Toro commentary
Damon Lindelof explains why Prometheus isn't exactly a prequel
Dumb and Dumber 2 is happening, say the Farrelly Bros.
James Bond will be sipping Heineken in Skyfall
Men in Black 3 opens May 25, 2012. [Coming Soon]
As excited as Sony is about Marc Webb's The Amazing Spider-Man, it's apparently hoping that fans haven't totally forgotten about the previous incarnation of the Marvel superhero — Sam Raimi's Spider-Man trilogy. The studio plans to rerelease Raimi's movies on Blu-ray June 12, three weeks before the July 2 opening of Webb's reboot.
If you already own Blu-rays of the Raimi's movies, though, you'll probably want to save your money as the new versions won't add much else in the way of bonuses. The disc for the first Spider-Man film introduces a Spider Sense Trivia Game and a feature called The Spider-Man Cutting Room Floor, which will allow fans to pull clips and music from the movie to create their own Spider-Man video. Spider-Mans 2 and 3 only include "collectable O-ring packaging" and a code for a free ticket to a new movie in addition to the previously released special features. [THR]
Much more enticing is the new Blu-ray reissue of Blade II, which promises to feature a brand-new commentary by director Guillermo Del Toro. That alone should pique the interest of Del Toro's fans, who know how wonderfully charming and intelligent the filmmaker can be when talking about his work, but the upcoming release will also include a new Director's Notebook and a featurette involving writer and executive producer David S. Goyer. Plus all of the features from the previous version of the Blu-ray, of course. The new Blade II Blu hits shelves July 10. [Bloody Disgusting]
Though we've been calling Ridley Scott's Prometheus an Alien prequel for some time now, some involved with the production have steadfastly insisted that the project isn't a "true" prequel. In a recent interview with Ben Blacker for the Nerdist Writers Panel, Prometheus scribe Damon Lindelof explained exactly why he doesn't consider the film a prequel, and for that matter, what his problem is with prequels in general. Blastr transcribed the relevant portion of the 90-minute talk below:
The thing about a prequel is, as fascinating as it may to watch Anakin turn to the dark side of the Force, there's an inevitability to it. You know when you go in the prequel can only cover A to Y and then Z is gonna be the preexisting material. You can't end it in an exciting or surprising way. You can only end it in the inevitable way. ...
When I went to go see The Thing prequel, for example, I'm assuming this movie is going to be the sequence of events that led up to a dog being infected by the Thing and then being chased by a helicopter across the frozen tundra — because I know then what happens next because I saw The Thing. And that's exactly what it was. On a certain level, you're satisfied because if you're calling a movie a prequel, that's what you're expecting. On another level, you sort of walk out going, "Boy I wish there was a little bit more room for me to not exactly know what I was walking into."
In my opinion, in order to define Prometheus as a prequel, Is it set in the Alien universe? ... If you just watch the teaser trailer, and you see how the word Prometheus reveals itself ... or look at the production design, you don't need me to tell you anything.
So then the next question is: Is it a prequel to Alien? To that, I can't really answer the question because my definition of prequel, the A-to-Y definition, I hope it's not. I hope that this movie can be surprising. The ending of this movie; the sequel to Prometheus is not Alien. The sequel to Prometheus, if it does well and people like it, would be another movie that goes off in its own direction, that runs tangential to Alien.
Does Lindelof have a point, or do you think he's just splitting hairs? We'll learn more about the exact nature of the relationship between the two movies when the film debuts June 8. In the meantime, head over to Nerdist.com to listen to the full conversation.
After this month's opening of The Three Stooges, directors Bobby and Peter Farrelly will be tackling another well-loved team of comedic morons — Dumb and Dumber's Harry and Lloyd. The Farrellys have now confirmed that Dumb and Dumber 2 is not only moving foward, it's doing so very soon. "We're getting set to shoot Dumb and Dumber 2 in September," revealed Peter Farrelly. "It's the first sequel we've ever done and we've got Jim Carrey and Jeff Daniels back."
You'll probably recall that Dumb and Dumber already got one previous cinematic follow-up, in the form of 2003's prequel Dumb and Dumberer: When Harry Met Lloyd (which did not feature the original stars or directors). However, Peter Farrelly insists that Dumb and Dumber 2 will be a different animal.
"We did not do Dumb and Dumberer," he said. "That was a studio thing. So we've always wanted to do a sequel and finally Jim called up. Jeff always wanted to do it. We always wanted to do it. Jim was busy, but he called and said, 'We've got to do this thing again.' He had just watched Dumb and Dumber and he said, 'This is the perfect sequel. Let's do it.'" On the bright side, this does not seem like a worse idea than The Three Stooges, and at the very least it's bound to be better than Dumb and Dumberer. Right? [Coming Soon]
James Bond's love of martinis isn't just well-known, it's downright legendary. But in the upcoming Skyfall, 007 will look to shake things up a bit with a new drink. Ad Age reports that the character will drink Heineken brand beer in at least one scene in the upcoming film, as part of a larger promotional campaign that will also include an international spot featuring Daniel Craig directed by Fredrik Bond (who, as THR amusingly but accurately indicates, is not related to the fictional character). Heineken USA marketing exec Lesya Lysyj enthused bout the collaboration, calling Bond the "epitome of the man of the world."
I don't have a problem with Bond drinking beer per se — even a man of habits wants to sample a new drink after decades of the same old, I'd imagine — but as a bit of a beer snob I wish he'd pick something a little less boring. The Dutch lager has its fair share of onscreen fans, though, including Jeffrey Beaumont and Betty Draper.