Clint Eastwood's 'A Star Is Born' Inspired By An Unlikely Source: Kurt Cobain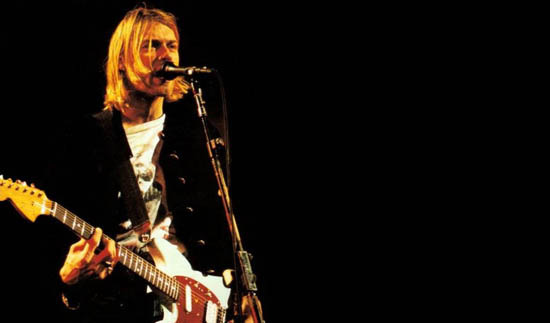 A Star is Born is a story that has been told multiple times, in different eras, with the story changing a bit each time to reflect the time in which it was made.
Now a new version is in development with Clint Eastwood set to direct, and Beyonce meant to play the up and coming singer who is groomed for stardom by an older musician on the downside of his career. Tom Cruise has been reported as being the top choice to play the male lead, but we don't know whether that will happen.
What we do know now makes part of the film sound rather interesting, however. This current version is being written to factor in the great state of flux in which the music industry has been mired for the last decade. And the older male character is inspired by one of the major musical figures of the '90s: Kurt Cobain.
Speaking to Crave Online, A Star is Born screenwriter Will Fetters said of the film,
I think I've reinvented the Norman Maine character, the lead," Fetters said. "I wanted to do A Star is Born because I'm a huge Kurt Cobain fan. That was like my Kennedy assassination when I was a teenager. When he died it was a huge horrible thing. So I approached A Star is Born, for me the framework was all right, if Kurt Cobain never got to go Unplugged and survived and it's 20 years later and it's now, and he wanted to try to do that album with that understanding as this grunge icon. That'd be tough to get done if he was past his prime, no longer selling, how does he get that album?"
He explains further that the script is still in flux, but that he definitely latched on to adding a layer of modern concern:
The love story is there and it's been done five times, but I was more interested in I feel like right now is an interesting time. My industry's changing and trying to deal with it. People aren't going to the movies as much anymore. The music industry's changing. It's harder to be a successful artist and make money off it, especially if you're a dinosaur. If you're a guy in your 50s, in a world of Justin Bieber, if you're Kurt Cobain now in your 50s, what do you do? How do you exist in this world?
Nearly twenty years after his suicide, Cobain remains a polarizing figure, with arguments quick to erupt over his talent and lasting value. But I find it difficult to accept any argument that dismisses the resonance Cobain had on the music industry; the decade of popular music that followed the release of Nirvana's Nevermind was indelibly affected by the popularity of that record. Imagining one of the leads of A Star is Born as the aged version of Cobain is quite a good way to reinterpret the character, and to place the story in a context that makes sense today.