All-Too Brief Teaser For Animated 'Foosball,' From 'Secret In Their Eyes' Director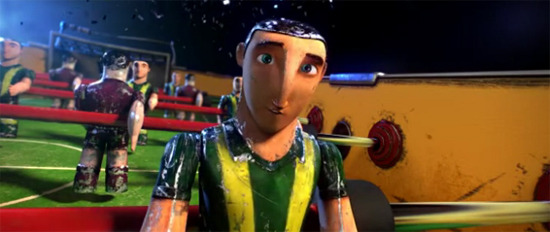 We were a bit surprised — only a bit — when it was announced that Juan Jose Campanella, director of the Oscar-winning Secret in Their Eyes, would make an animated film called Metegol, or Foosball. Only a bit surprised because there was that one great sequence in Secret that takes place at a soccer match, suggesting that Campanella evidently has more than a passing interest in the sport. But foosball is something else altogether, and not a thing that is often chronicled on screen. (Who knew this teaser would hit so close to a foosball-themed Community episode?)
The film is reportedly about " an underdog who, with the help of foosball figures that come to life, must take on a star soccer pro to save their village." We'll have to wait to see more of that, but for now there is a one-minute teaser that starts to give us an idea of what the animation will look like. Check it out below.
I like the animation here — it's a good-looking bit of footage that makes me curious to know more about what the film will really offer. And despite the fact of the English language track in this teaser, audiences in other countries will likely get a chance to hear a voice cast that includes Pablo Rago, Fabian Gianola, Miguel Angel Rodriguez, Horacio Fontova and David Masajnik.
We don't have a release date for Foosball at this point, but it could end up taking a festival berth and landing US distribution that way.
[Animatie, via The Playlist]