Ben Affleck To Star In Political Comedy 'Nathan Decker'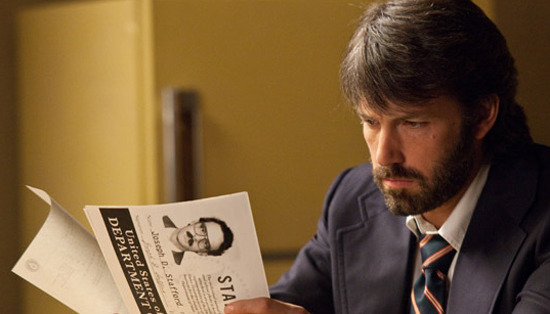 I really respect the way Ben Affleck turned his career around. The actor had a pretty bad few years a while back thanks to his over-publicized relationship with Jennifer Lopez and a handful of big films that were not the best fit for his personality. Then he proved his directorial skill with Gone Baby Gone, and remade himself as a viable leading man in The Town. We'll soon see him play lead roles in his third directorial effort, Argo (pictured above), as well as in Terrence Malick's upcoming, still-untitled romance.
And now the actor has taken over for Tom Cruise in a political comedy called Nathan Decker, written by Dan Fogelman (Crazy, Stupid, Love) that Warner Bros. picked up a year or so back.
THR says that WB approached Affleck to star as "a politician who is caught in an affair and returns to his hometown to confront his past." Affleck won't direct the film, and WB is looking to make a hire for that job now. (Affleck is set to direct a new adaptation of Stephen King's The Stand, also for WB, but I won't believe that is actually happening until cameras roll.)
It's difficult to get too much out of that synopsis — it's pretty generic. Reminds me of the film that John Krasinski co-wrote with Matt Damon, that Damon was going to direct before Gus Van Sant took over. I seem to remember there's another film in development with a similar plot, too, but can't come up with the title. As I said, rather generic sounding.
But we'll keep an eye on who is hired to direct, and who fills out the cast. That could make all the difference. Knowing that WB was developing this as a star turn for Cruise and has now taken it to Affleck, the studio's new go-to guy, suggests there's more to it. (Deadline does add that Affleck's participation is contingent upon a rewrite, so perhaps there's more potential than anything else right now.)