New 'American Reunion' Red Band Trailer And Viral Video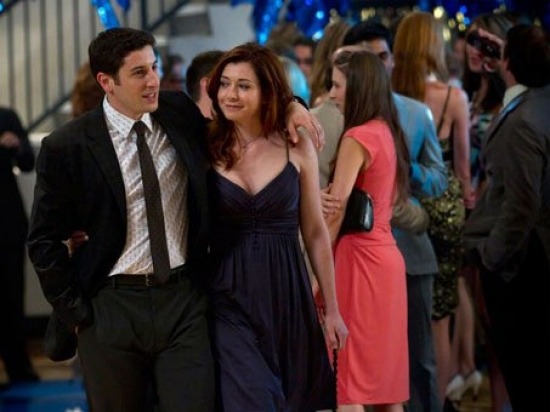 Fans of the American Pie series already have April 6 circled on their calendar, because that's when when American Reunion hits theaters, and audiences get to see what happened to characters like Jim, Finch, Stifler and Oz as they moved forward with their lives. It's the fourth theatrical film in the Pie series and brings back literally every single pivotal character from the original two films for a belated ten-year high school reunion. Some are famous, some are married, others are still finding their way but when they all get back together, you know the bodily functions and awkward situations will be in full effect.
To help promote the upcoming film, Universal has just released another red band trailer as well as a video called Revenge of the Pie starring Jason Biggs and a certain dessert that finally gets its paypack. Check out both NSFW videos after the jump.
Here's the latest red band trailer for American Reunion. Of course, as is the case with most red band trailers, there are major spoilers here. Thanks to MetaCafe for the video.
And here's Revenge of the Pie thanks to Funny or Die. You've gotta love that Biggs will do anything for a laugh but be aware, this is NSFW.
American Reunion, written and directed by Jon Hurwitz & Hayden Schlossberg, stars Jason Biggs, Alyson Hannigan, Chris Klein, Thomas Ian Nicholas, Tara Reid, Seann William Scott, Mena Suvari, Eddie Kaye Thomas, Jennifer Coolidge, Eugene Levy, Natasha Lyonne and Shannon Elizabeth. Here's the plot description:
In the comedy American Reunion, all the American Pie characters we met a little more than a decade ago return to East Great Falls for their high-school reunion.  In one long-overdue weekend, they will discover what has changed, who hasn't and that time and distance can't break the bonds of friendship.
It was summer 1999 when four small-town Michigan boys began a quest to lose their virginity.  In the years that have passed, Jim and Michelle married while Kevin and Vicky said goodbye.  Oz and Heather grew apart, but Finch still longs for Stifler's mom.  Now these lifelong friends have come home as adults to reminisce about—and get inspired by—the hormonal teens who launched a comedy legend.