'Sleepless Night' U.S. Trailer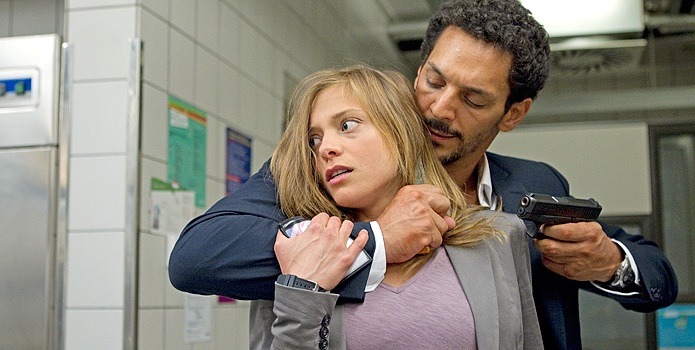 Outside a select few titles, Hollywood really hasn't been doing too well releasing bad-ass, critically-acclaimed action films. For those, smart moviegoers are looking overseas to films like The Raid: Redemption and the film you're about to watch the trailer for, Sleepless Night. Directed by Frédéric Jardin, the festival favorite (read our reviews from Toronto and Fantastic Fest) is about a compromised police officer who undergoes a hellacious night in a French nightclub trying to rescue his kidnapped son. Blending the tropes of the TV show 24 with the action of the Bourne movies, it's a ton of fun. The film hits theaters May 11 and VOD April 17 and you can watch the official United States trailer below.
Thanks to FirstShowing for the heads up. Head to Apple.com for the high-res version.
Though the film is going on demand in a few weeks, if you can see it in a theater (check the official site here) you really should. It's a big, exciting, visceral action movie that deserves to be seen in a huge theater with a crowd.
Here's the official plot description:
Sleepless Night tells the story of Vincent, a respected and dedicated police officer – or so it seems. After he and a colleague are recognized while stealing a massive bag of cocaine from drug dealers employed by local mob boss Marciano, Vincent quickly finds himself trapped in a situation that no parent would envy: his son has been kidnapped with the promise of execution if he doesn't immediately deliver the bag back to its rightful owner. Vincent heads to Marciano's nightclub on the outskirts of Paris to make the swap, but competing interests and misplaced loyalties soon threaten to complicate the exchange. The ensuing game of cat-and-mouse quickly spirals into madness, sprawling across every seedy back room and pulsating, claustrophobic inch of the crowded dance floor. With enemies on all sides and time working against him, the night to come might not only be the longest but also the last of Vincent and his young son's life.